A Tremendous Responsibility
Kelly Timothy, an intensive care nurse on UCSF's COVID-19 wards, cares for some of the Bay Area's sickest patients – and their families.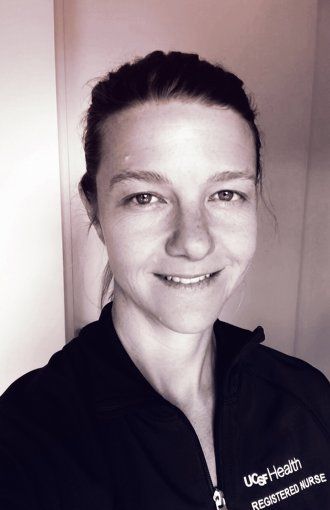 The coronavirus pandemic is not the first public health crisis that Kelly Timothy, RN, has faced. When the Ebola virus broke out in West Africa in 2014, Timothy, a veteran ICU nurse, trained with a specialized UCSF team to learn how to don and doff PPE and how to safely treat infectious patients. Ebola never came to California, but when COVID-19 reared its ugly head six years later, she was ready. 
In her own words, Timothy describes how UCSF transformed its ICUs to accommodate COVID-19 patients, why she's proud to be doing essential work, and what it felt like to see one of her sickest patients finally get out of bed.
---
I've been a critical care nurse for more than 10 years. I like the frenetic, fast-paced environment. ICU nurses have a heightened sense of what's going on around us. You see somebody walking fast down the hallway, and you know something is wrong. If a patient is very sick, a whole swarm of nurses will converge in their room.
A lot of our ICUs at UCSF are so big that they cover multiple floors. I currently work in the medical-surgical ICU on the ninth and 13th floors of the hospital at Parnassus Heights. Those floors are where many of our COVID patients go if they need to be intubated and put on a ventilator. It's hard to convey how insanely different the space is now. Visitors are very limited. Until recently, nobody was coming in for elective procedures. It feels like a much smaller place.
The other thing that's really strange is that all the doors in the entire unit are shut. When the hospital began preparing for a surge of COVID patients back in February, the facilities staff converted all the patient rooms in our ICU into negative-pressure rooms. These are rooms that, when the doors open, the air sucks in, which helps keep virus particles from getting out. The only way to maintain that is by shutting the doors.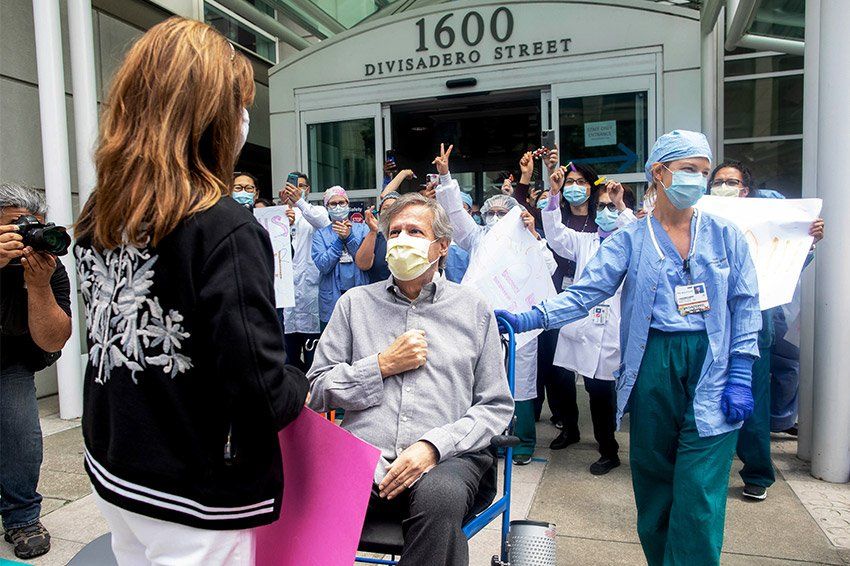 Often, it's just me in a room with a patient. If they're really sick, they might have five or six different teams of providers working with them, but most of those providers can't come into the room because we can't have people constantly going in and out and using up PPE. Instead, I communicate with the other providers thorough a closed glass door. It's super-loud in the rooms because of the intense HEPA air filters, so I'm writing a lot of notes and shouting through the glass.
Once we opened up the hospital to transfer patients, we started to get extremely sick COVID patients from other hospitals. They can take a really, really long time to get better. Sometimes they end up intubated for weeks and weeks.
There was one patient, Ron Temko, who made the news because he was intubated for over 30 days. I took care of Ron almost every shift for an entire month. We did a daily Zoom call with his family. He was heavily sedated, but they just wanted to see him and talk to him. I can only imagine what it's like to have a family member who's very ill, and you have no control. Often, these families are told that their loved one has a very high likelihood of dying. Talking with them and supporting them is a tremendous responsibility.
In a sense, I got to speak more with Ron's family than I did with him. He probably doesn't even remember most of our time together. But just seeing the dedication of his family and of all the people who were trying to contact him, I thought, "He must be the coolest guy."
After more than 40 days in our ICU, Ron was transferred to UCSF's Mount Zion hospital to recover for a couple weeks. I got to work there the day he was released. The last time I'd seen Ron, he'd been struggling to stand up. That day, he just hopped out of bed and said, "Look what I can do!" He looked great; he looked just like a regular person. It made me so happy because we really did not think he was going to make it. I thought, "This is what we do this work for."
I pushed him out of the hospital in a wheelchair. I knew his family was waiting for him, but I was not expecting a crowd. When we came out, people were cheering and waving signs. Ron gave this whole speech. It was really cool and gratifying to be a part of that.
I know it sounds like a cliché, but I'm really proud to be a nurse at UCSF during this crisis. I've been watching the weekly town halls and medical grand rounds on Zoom, where our leaders talk about how everyone is responding – like how our grad students are running COVID-19 tests for all of California and how we're sending physicians and nurses to help out in New York City and the Navajo Nation.
I love hearing those stories because they make me feel part of a close-knit community. At times, UCSF can feel like this huge, intangible thing. Now I see the interconnectedness, how we're all contributing to this greater goal.
We've been lucky in San Francisco to have had good leadership and to have sheltered in place early. We have not had the mortality rates of places like Italy and New York City. I'm not saying we're better. It's just that we've had the resources and enough skilled physicians and nurses to be able to provide appropriate levels of care because our hospitals and our ICUs haven't been overburdened by more patients than we can handle.
Listening to the epidemiologists, it sounds like we're going to be taking care of COVID patients for a very long time. But to be quite honest, I've felt lucky to be an essential worker. It's been nice to be able to leave my house and see other people and check in with my co-workers. Being a nurse right now, I'm able to be useful. I've been doing this work for over a decade. I'm uniquely trained to care for patients in acute respiratory distress who need high-level intensive care. I feel like I've developed my skills specifically for this moment.
More from this Series
Maria Raven, MD, MPH, chief of emergency medicine, takes charge of UCSF's first line of defense.