Order Out of Chaos
Custodian Abie Stillman keeps patients and staff safe by making sure UCSF facilities are sparkling clean.
When his bosses asked for volunteers to work inside UCSF Medical Center at Mission Bay during the coronavirus pandemic, senior custodian Abraham "Abie" Stillman raised his hand. For the past months, he's been sweeping, scrubbing, and sanitizing the wards and waiting rooms at the eye of the COVID-19 storm, providing an invaluable service that keeps the hospital humming and those within it safe.
But Stillman doesn't think of himself as a hero. In his own words, he shares his reflections on essential work, why he finds satisfaction in cleaning up, and what he would like from the public instead of another thank-you.
---
During the time I've worked at UCSF, my assignments have changed a few times. When I first started, I would clean the child care center and the fitness center and sometimes office spaces. When the COVID-19 pandemic started, my supervisors said they needed volunteers to clean the hospital. I told them I would do that to gain experience cleaning different types of places and to be on the front lines.
When I go in to work, I get assigned a certain area in the hospital to clean. I sweep, I take out trash, I clean toilets, and I clean places such as exam rooms, offices, and clinics.
I feel relatively at ease and safe. The reality is that the risk of being exposed to infections, such as COVID-19, is an inherent part of this job because we are in a hospital setting, and quarters get close at times. But we follow safety protocols, like wearing masks, and try to keep a safe distance from each other. I personally take as many precautions as I can, and thankfully, I feel like I have enough protective equipment.
Society wouldn't last a day without custodians ... So I know we are essential, but I don't consider myself a hero; it's just not how I think of myself."
Lately, my assignment has been cleaning the infusion ward, where people with cancer receive injections of medicines like chemotherapy. Just knowing that those people need us custodians in order to be able to receive their treatments – knowing that I am there with my team, making sure that the area is safe and clean and sanitized and functioning – makes me feel really good.
I enjoy making order out of chaos. If there is a mess, or if a space isn't looking right, it gives me peace and satisfaction to make it orderly. If I can see that an area now looks clean, and I've made a difference, that's rewarding to me. I also enjoy the camaraderie I have with the other employees and our ability to come together to accomplish a task.
Society wouldn't last a day without custodians because of the buildup of waste and debris and contamination. So I know we are essential, but I don't consider myself a hero; it's just not how I think of myself. It makes me feel uncomfortable when people say "Thank you" to me just for doing my job. I don't want more recognition or praise. What I wish is for the general public to continue to practice social distancing. That would be much appreciated so that eventually we can all get back out there in the real world.
After I've been cleaning all day, I usually go for a bicycle ride. These days, I've been getting off of work at 1:30 a.m. I usually hop on my bike around 2 a.m. and go for a long ride. I start from Mission Bay and then work my way around the Embarcadero and up through the Twin Peaks area. I usually listen to metal while I'm riding; Judas Priest is my favorite. Almost nobody is out at that time of night. It gives me a chance to review how my day at work went and to enjoy the quiet of the city streets. I like unwinding and getting the endorphins going. It's just good to have some time away from work and all of the problems going on in the world.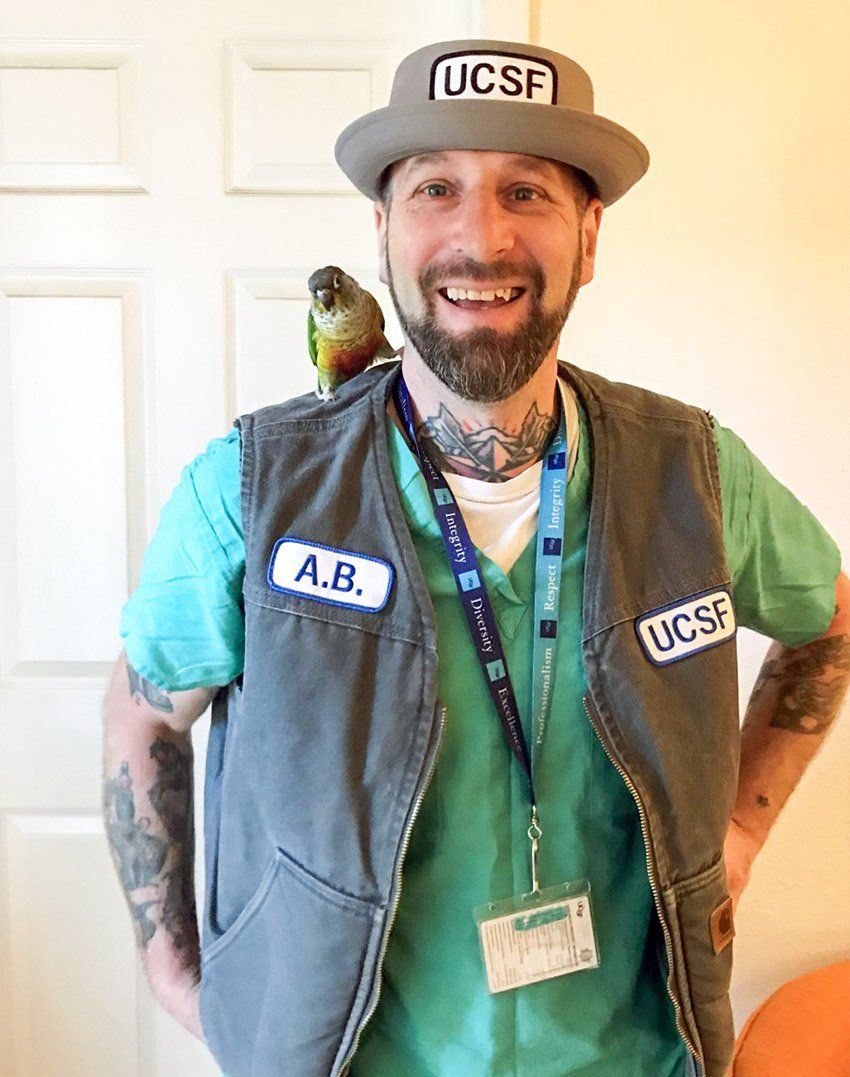 Cleaning my own place when I get home is not always what I want to do. In fact, sometimes my partner and I let the cleaning go because we get busy. I am a bird owner, and the birds are quite messy; they get into everything. We had three birds who all met tragic ends, so right now we have just one: a green-cheeked conure named Squeaky. She's resilient and very personable. She stays in her cage when my partner and I are not there, but when we are home, she is free to fly.
I am from San Francisco originally, and I am really stoked to be working here in the city at UCSF. Overall, I feel I am in a really good space. Everyone I work with at the hospital takes extreme pride in making sure everything is sanitized and clean, and it's really fun to enjoy the spirit of togetherness we all share. We are joking and jiving, we are trash-talking, and we all want to do a good job. It sounds cheesy and corny, but I have seen it to be true: Everyone is there to put in a full day's work. There's a feeling that we are all in this together.
More from this Series
Why are more men than women dying of COVID-19? Scientist Faranak Fattahi, PhD, has found a clue.