Partnering with Public Schools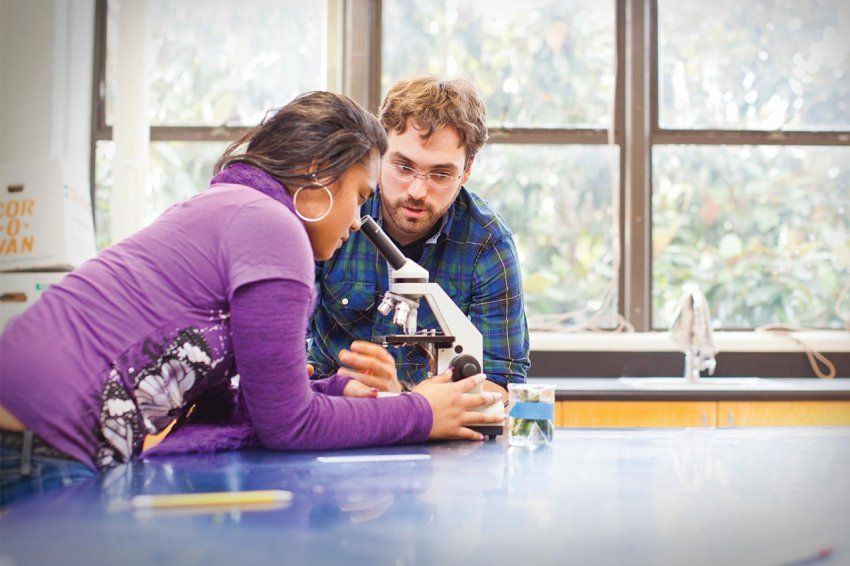 Yesmina Zavala defies gravity – just ask a social scientist. Because her parents didn't attend college, Zavala had only a 55 percent likelihood of attending herself. She rose above those odds with a full scholarship to UC Berkeley.
She credits UCSF's Science & Health Education Partnership (SEP) for her success. Now in its 25th year, the program supports science teachers in the public schools and redefines the chances of academic success for disadvantaged students in the San Francisco Unified School District (SFUSD). Zavala was one of 20 students who are tapped each year by their high school teachers to be part of SEP's High School Internship Program (HIP), which places students in part-time UCSF laboratory positions the summer after their junior year. "The teachers look for students who are very talented and have potential, but they haven't seen that in themselves yet," says Rebecca Smith, co-director of SEP. "These are kids who would never even think to consider a science internship. They are trying to figure out if college is something they can do or not."
Zavala worked in the lab of Obstetrics and Gynecology Professor Synthia Mellon, PhD, trying to identify a gene possibly linked to cervical cancer. "At first I was overwhelmed, wondering how I would ever learn how to use all the gadgets and equipment," recalls Zavala, now 26 years old and working at Kaiser Permanente as a workplace safety project manager. "With help, I got the hang of it. That's when I knew I could do absolutely anything if I put my mind to it."
Two hundred students have gone through the internship program, each with his or her own transformative story. Critical to those stories are the workshops that educate the students on how to select a college, apply for financial aid, and write a personal essay. More than 90 percent of HIP alumni go on to college. "What's really striking is that 80 percent earn bachelor's degrees in science – that exceeds statistics of any demographic in the US," says Smith. Nearly 90 percent acquire degrees beyond a bachelor's degree.
"Honestly, I don't know where I would be now without SEP," says Zavala. "So many of my high school peers, given their life experiences, were lost then and still are."
The internship is only one of SEP's programs. SEP builds partnerships between UCSF scientists and K-12 teachers in the SFUSD. Partnership teams co-teach science or health lessons in the most engaging, experiential way possible. Last year 143 such partnerships were created, serving more than 4,000 K-12 students. For most students, it is their first exposure to a real scientist. "We try to break down stereotypes about who scientists are," says co-director Katherine Nielsen. SEP's research (and that of other groups) shows that kids assume scientists are white men, mostly with crazy hair. "We have a lot of evidence that after a SEP partnership, their perceptions change from stereotype to the point that they can see themselves in the role."
Scientists help teachers devise experiments so that students can experience the real process of science. Likewise, teachers work with scientists to frame their information for a young audience. The teacher/scientist pairs meet in the SEP offices and avail themselves of all the microscopes, human organs, and organ models that can be borrowed from SEP's Daly Ralston Resource Center. Last year a scientist brought two lungs into a classroom – one healthy and the other of a smoker. "The teacher told us that one of the students convinced her parents to stop smoking after seeing the two lungs," says Nielsen.
When science is taught like this, it is fun and interesting. They can implement those same strategies in their own classroom."
San Francisco teachers also participate in SEP's week-long summer institutes, which integrate adult-level science content with teaching strategies. "The goal is to teach science to teachers in a way that they've never been taught before," says Smith. "So they have this 'a-ha!' When science is taught like this, it is fun and interesting. They can implement those same strategies in their own classroom."
The Bay Area Science Festival is SEP's most high-profile program. Inaugurated last year, the 10-day event was attended by more than 70,000 people. The festival is a series of 100 interactive scientific and technological events held in collaboration with Bay Area academic, scientific, and corporate institutions. Smith, shocked by the number of attendees – 20,000 – at the culminating event at AT&T Park, tried to manage the crowds. "I attempted to redirect some kids to another area by saying, 'Hey, you can touch a human brain if you go over there,'" recalls Smith. "One said, 'Nah, I have already touched three brains today.' Now that's a good day in science."