Mei-Ling Wong, RN, MS '13, remembers the nights when her mother would vanish. It was the first clue in Wong's 5-year-old mind that her mother was a nurse. Wong would climb into her parents' bed, searching and crying. "I wanted to use more tissues than I needed so that I could pile them up on the bedside table for my mom to see after her shift," recalls Wong.
Peggy Cadbury, RN, BS '79, smiles, listening to her daughter's remembrance.
Wong is a little groggy as she retells the tale, having just come off a 12-hour night shift of her own in the pediatric intensive care unit at UCSF Benioff Children's Hospital San Francisco. As cranky as she was as a kid about such a schedule, Wong decided to follow in her mother's footsteps.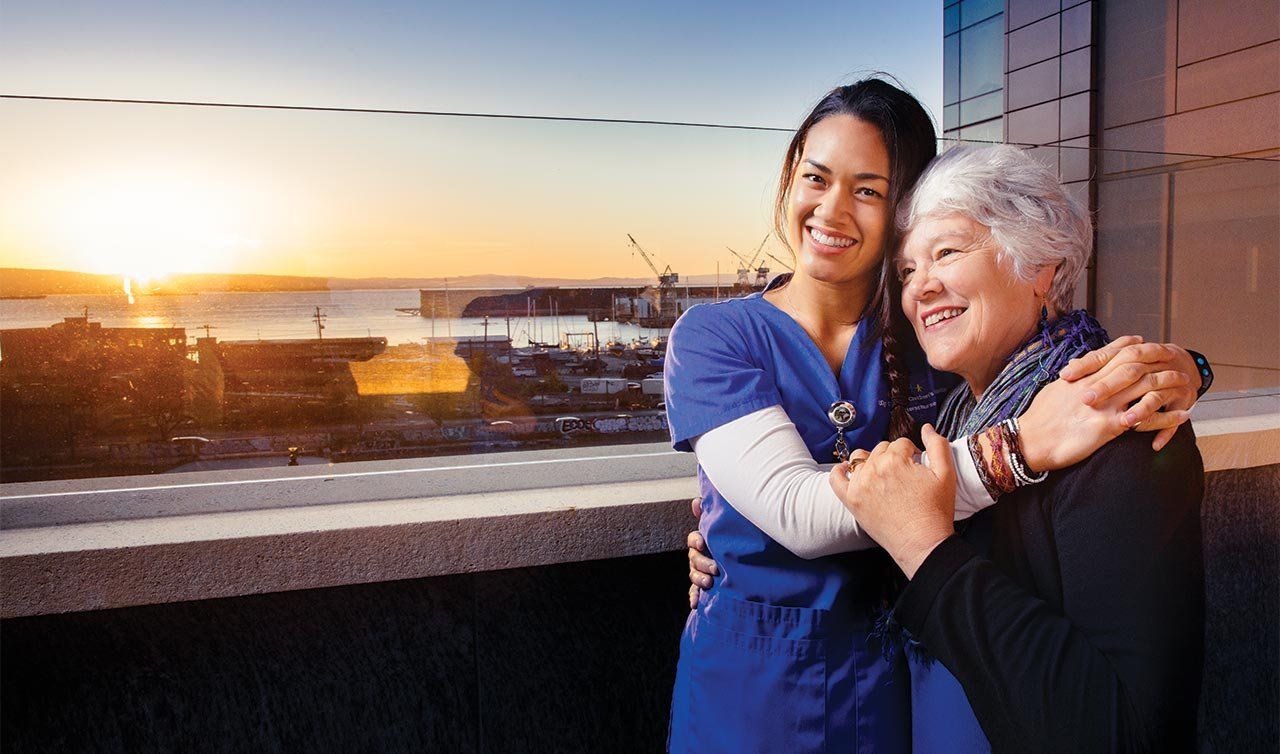 They both attended UCSF School of Nursing, 34 years apart. Cadbury matriculated at the age of 30, a decade older than most of her classmates. She had spent three years in Southeast Asia during the Vietnam War, working for a Quaker rehabilitation center. Among her duties was assisting amputees with job training, since they couldn't be farmers anymore.
By the time she left there in 1975, Cadbury was conversant in Vietnamese, on a mission to become a nurse, and in love. She had met the man who would be Mei-Ling's father, Ching Wong. He said goodbye to her in a poem. "He wrote, 'The world is still round, you and I will meet again,'" says Cadbury.  They reunited in America when he was finally able to get out of Vietnam.
The family lives near UCSF Medical Center on Parnassus, the perfect commute for Cadbury during the years she worked with patients on the 14th floor of Moffitt-Long Hospital. "I was on the general surgery postsurgical unit," says Cadbury. "I loved the bedside – helping people get well."
Yet sometimes they don't – but even then the work has its rewards, notes Wong. "Knowing that we have done all that we could – standing all through the night, laser-focused on perfect strangers – and having people acknowledge that is pretty wonderful," she explains.
Though a generation apart, mother and daughter say the same thing got them both through nursing's most challenging moments. "Nursing is about 'team,'" says Cadbury. She found team not only at the bedside, but also when she moved on to research, working on clinical trials until her retirement six years ago.
Wong nods. "When the walls come down after someone dies, you look to the people who you have struggled through it with," she says. "These are the most traumatic moments of parents' lives, and we experience this trauma on a daily basis. It's the team that gets you through."
Wong also looks to "place" for grounding and renewal. On the hardest mornings, she and all the nurses naturally gravitate to the windows. Sometimes, she says, she'll stand outside on the lower patio, glance up, and see nurses at the windows on every floor – searching the horizon for first light at the end of their shift.
She recently had a patient who had been fighting for his life all night. The nurses knew the little boy wasn't going to make it. "He died at 6 a.m.," recalls Wong. "He had a room with a view of the bay. At 6:15, we all looked to the window and saw the most epic sunrise. It was as if his soul was lifting. It was an end and a beginning."