Amidst Anxiety, Finding the Human Connection
Hospitalist Sajan Patel shares his personal journey with the first patients in the early days.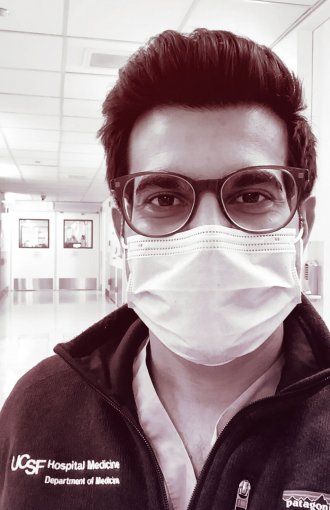 While the sickest patients go to the intensive care unit, hospital-based internists like Sajan Patel, MD, provide supportive care – monitoring oxygen and vital signs – to the many other hospitalized COVID patients. Patel, an assistant professor of medicine, recounts in his own words how the complicated emotions of caring for the Bay Area's very first COVID-19 patients changed his ideas about what supportive care means.
Patel is based at the Parnassus campus, where he also teaches medical students and residents and is assistant director of quality and safety.
---
It was early February, around Super Bowl Sunday, when we were starting to see the writing on the wall that, Hey, this is coming. Are we prepared for this? We were trying to focus on our patients, but COVID was the huge elephant in the room. The general feeling in the hospital was anxiety and wondering, When is it coming?
February 5, I got a text about my patient assignments that said, "You're going to get the COVID patients." In general, I'm pretty even-keeled. Part of being a hospitalist is you go to the patients, you just take it as it comes. But there's nothing – nothing in my life, in my medical career – that prepared me to get that news.
In medicine, you usually have at least some clinical knowledge or experience with the diseases you treat. 
The number of U.S. patients that were identified at this stage was just 12. Seven were hospitalized, and I was going to care for two of those. So you can imagine the amount of knowledge at this time. We knew they had to be in isolation. We were practicing airborne precautions, which means wearing an N95 mask or a protective helmet called a PAPR (which stands for powered air purifying respirator). But, gosh, we didn't know if the virus can stay on your hands for a long time, if you can bring that home.
"I've accepted that I will likely get COVID …" Patel wrote in a Facebook post in March. The post went viral and has since been shared 25,000 times.
The emotions of it were intense and a bit overwhelming. We'd heard stories about people, including health care workers, getting pretty ill, which was unnerving. And that weekend my father was going to be visiting – he's 60-plus. In my head, I had to say, Can my dad still come out? What's going to happen to my partner I live with? It's that fear of just not knowing what you are getting into. There's this brand-new disease that we had so little knowledge about, and there was so much folklore out there.
For guidance and support those first two days, I leaned heavily on my leadership. They huddled with me every day. There's the nurses, facilities workers – we'd huddle with them every day. I would chat with the hospital incident-command team, with departments of health. I appreciate that our colleagues have been very measured in saying, "Let's look at the data." With COVID, there's a lot of fear. But at UCSF, we've had a group of leaders saying, "Let's be thoughtful about this."
After days one and two, that crippling fear and anxiety were melting away because of the support I was getting from leadership, feeling more comfortable donning and doffing PPE, and just getting more familiar with the disease.
A huge part of that was just the human connection I built with the patients. That's been the most salient, important, and powerful part of this whole thing. I began to stop thinking of this as "I'm treating COVID." It broke the anxiety when I realized, this is what I do – I take care of people. Bringing it back to the patients helps you find your true north.
For example, we've been getting video conferencing working for patients to preserve PPE and minimize exposure for frontline workers. What I found, what's maybe the most powerful moment, is when I connect with a patient over Zoom and they see my face for the first time.
Because, as you can imagine, they don't know what their doctors and nurses look like because everybody's in this gear. And they're isolated from their families. All that makes for an intensely dehumanizing experience for patients. So one of the things we can do, not only as doctors, but as humans, is give that back to them.
So that is one of the highlights of my day – just calling them over Zoom and saying, "Hey, this is what I look like." One of my patients said, "It's healing and humanizing to see your face.... I hope when I see you at Safeway I can recognize you." 
Recently, we did a panel with fourth-year medical students, who are about to enter their intern year. They asked how they can prepare. I told them that what they can do, what anyone can do, is the stuff outside of medicine – touching the patients, connecting them with their families, being their family in the hospital, doing whatever you can to advocate for them. Everyone has the power and the agency to do that.
More from this Series
Surgical charge nurse Alicia Catanese, BSN, RN, volunteered to help the Navajo Nation cope with its COVID surge.