Finding a Mooring in My Values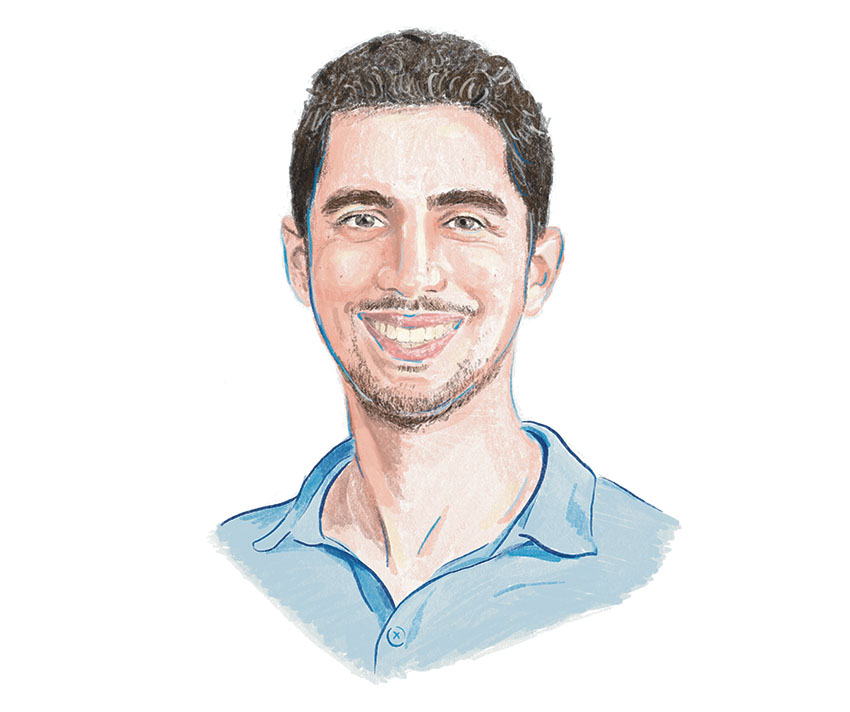 "Joy is a terrifying emotion, don't trust it." Those words from the memoir Between Two Kingdoms, by cancer survivor Suleika Jaouad, stuck in my mind as I sat in my neuro-oncologist's sterile, white-walled office, waiting for the results of my latest MRI.
Every nine weeks, I come to Dana-Farber Cancer Institute in Boston for a scan to check on my brain tumor and see if the experimental treatments I receive – the immunotherapy infusions pumped into my veins every three weeks and the molecular-targeted pill I swallow every night – are doing their jobs. The nine weeks since my last appointment were admittedly great: soaking in love from my nephews; going on dates; working in global health, a field that I am passionate about; and fulfilling a lifelong dream of buying a sailboat. Now, however, sitting in my doctor's office, all that joy has turned to dread. Two decades of living in the world of cancer – and in a realm of perpetual uncertainty – have taught me how easily joy can be snatched away. The subsequent feeling of loss is sometimes impossible to bear. Was it time for my doctor to deliver me bad news, and bring back the loss I have all too frequently had to confront?
"Your MRI looks good," says my neuro-oncologist. "Everything remains stable." Though I keep a public blog about my experience living with cancer, I have not posted updates from my recent scans, even though the news was good. I know that the further the pendulum swings toward joy, the further it can swing in the other direction – and that possibility is terrifying. Publicly announcing the good news feels like dancing with the devil.
But while uncertainty can be paralyzing, it can also be a catalyst to live life as fully as possible."
But while uncertainty can be paralyzing, it can also be a catalyst to live life as fully as possible. Though I have lived with cancer for most of my life, I came to this realization only recently. I was diagnosed 18 years ago, when I was 12, with a rare, octopus-like tumor called an oligodendroglioma, located in the left motor cortex of my brain. I had a recurrence 10 years later and another regrowth four years after that. That medical history translates to several periods of my life getting interrupted: first my childhood, then my dream job working in ocean conservation in Indonesia, and then my training at UCSF to become a physician. During the most recent recurrence – when I transitioned from medical student to patient – I realized that I needed to align my life more closely with the things I valued most: presence, quality of life, and time for relationships. Why did my day-to-day life not fully reflect that?
It was a hard but intentional choice to leave medical school and move back to Boston, closer to my family – and a choice I was thankful to have the option to make. Living true to my values does not remove the uncertainty – and today, with the ongoing threats of the pandemic, global conflict, and climate change, there are even more reasons to feel unmoored.
But while I still worry that my joy will be all too quickly extinguished, I also know that I have constructed my life in a way such that I can go out sailing on the water to silence the noise of the unknowns; that I have the balance I need to pursue my passions without sacrificing my health; and that I can easily snuggle with my nephews or get a home-cooked meal from my mom, both of which make my soul glow. There is some contentment in knowing that I can always fall back on my values. That they can serve as a guiding light even when clouds of uncertainty loom. That I can feel less afraid to lean into and to trust joy.
Jeremy Pivor is committed to health equity and environmental justice and advocates for others with cancer through writing, speaking, fundraising, and lobbying. His work has been featured in the Washington Post, Cure, and other publications.