UCSF Trifecta
Three brothers, three UCSF MDs.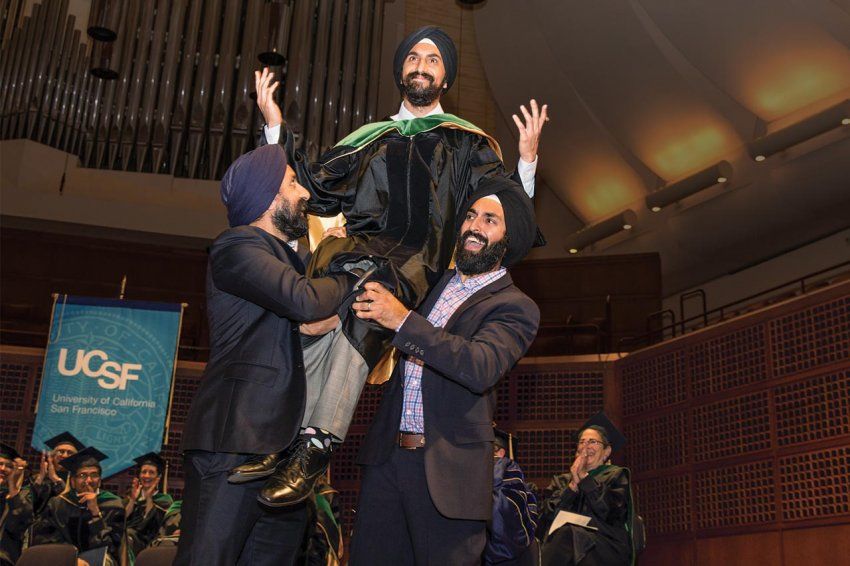 "We are blessed," said Harjinder Gogia, MD, smiling, as he and his wife, Surinder, watched their two older sons, Ravi and Paul, hood their youngest son, Shawn, at the UCSF School of Medicine's graduation ceremony in May. His brothers, also UCSF graduates, placed Shawn's hood and then hoisted him onto their shoulders. 
Shawn didn't always know he wanted to be a doctor. His brothers, his father, two uncles, and at least 10 other family members had all chosen to practice medicine. With so many doctors turning up at Gogia family reunions, everyone just assumed Shawn would study medicine, too. But he had other plans and entered UC Berkeley as a European history major. 
Connection to patients, family, and community is what is most important to me."
He was a sophomore there when a volunteer position as a caseworker serving the indigent at the Suitcase Clinic changed his thinking. The student-run organization offers free health care and social services to underserved populations in the Bay Area. Liaising with clients sparked Shawn's interest in homelessness and its effects on health. "Medicine can transform both on an individual level and on a community or societal level," says Shawn. "I really like connecting with my patients, figuring out a diagnosis, and then determining what structural issues are keeping that person from getting healthy. Connection to patients, family, and community is what is most important to me."
Shawn chose UCSF in part because both of his brothers are alumni, but his family's ties to the school run even deeper. When Shawn was 6 years old, Ravi, then 11, was diagnosed with metastatic liver cancer and given just months to survive. With such a dire prognosis, Harjinder brought his son to UCSF for treatment. Ten years later, when Ravi began his studies at UCSF, he understood what it was like for a child to go through intensive treatment in a hospital setting and was inspired to start the Pediatric Stars program in his first year. The program pairs young patients with first-year medical students as mentors who connect with the children throughout their treatment and try to engage with them in ways aimed at making the process feel as normal as possible. 
Both Ravi Gogia, MD '08, and Paul Gogia, MD '05, were exceptional students who graduated from UCSF with Alpha Omega Alpha honors (the Phi Beta Kappa of medicine). With two sons already in AOA, Shawn says his parents barely acknowledged the honor when he received it. "My dad said he thought it was something everyone got," Shawn laughs. When he was nominated for the prestigious Gold-Headed Cane Award – an honor bestowed by classmates and faculty for best exemplifying the qualities of a true physician – only then did his father react. Matched for a residency at Massachusetts General Hospital in Boston, Shawn is ready for the next phase in his career. "There may even be another Gogia at UCSF," Shawn says, flashing his contagious smile. "I have a cousin who just completed premed."