Lured by the Gold Rush, UCSF's founding father, South Carolina surgeon Hugh Toland, ventured west. As we mark the 150th anniversary of the institution he launched, we celebrate the pioneers, visionaries, and mavericks whose curiosity and collaboration have led to major scientific breakthroughs and to advances in education and training that enhance and save lives. The following 50 milestones are but a few of UCSF's triumphs.
Founding Years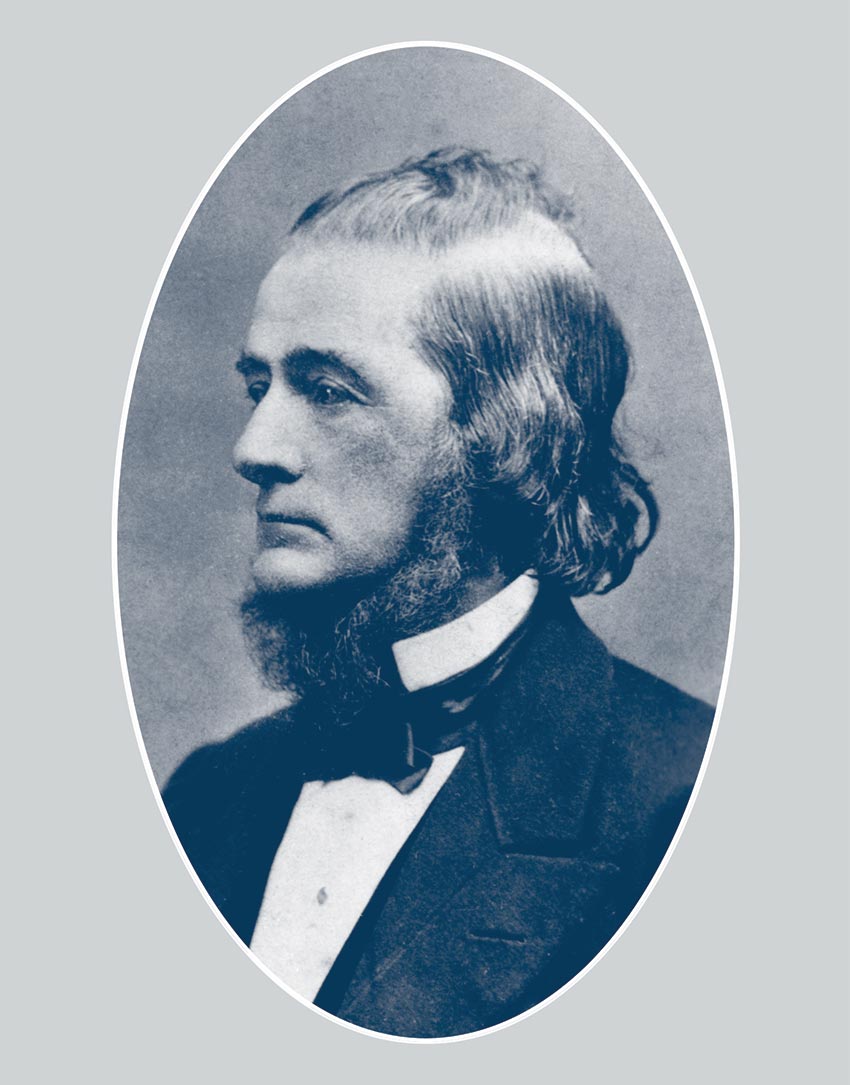 1864
Hugh Toland opens Toland Medical College in San Francisco's North Beach; it's now the West's oldest medical school in continuous operation. Nine years later, the college is deeded to University of California, which was established in 1868.
1872
City and County open San Francisco General Hospital (SFGH) on Potrero Avenue, starting UCSF's long public health partnership with the hospital.
1872
California College of Pharmacy founded; in 1873, it affiliates with University of California.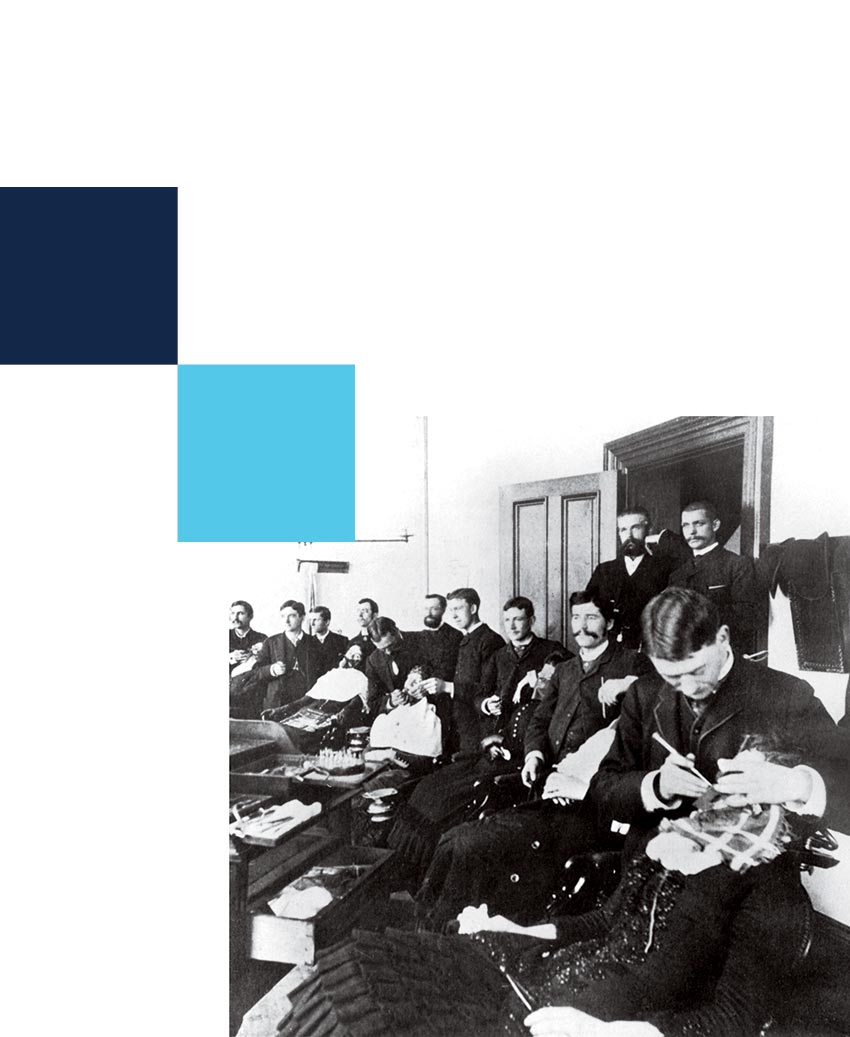 1876
Wisconsin native Lucy Wanzer becomes first woman to graduate from a California medical school, the nascent UCSF.
1881
UC Regents establish the West Coast's first dental school, which later becomes UCSF School of Dentistry.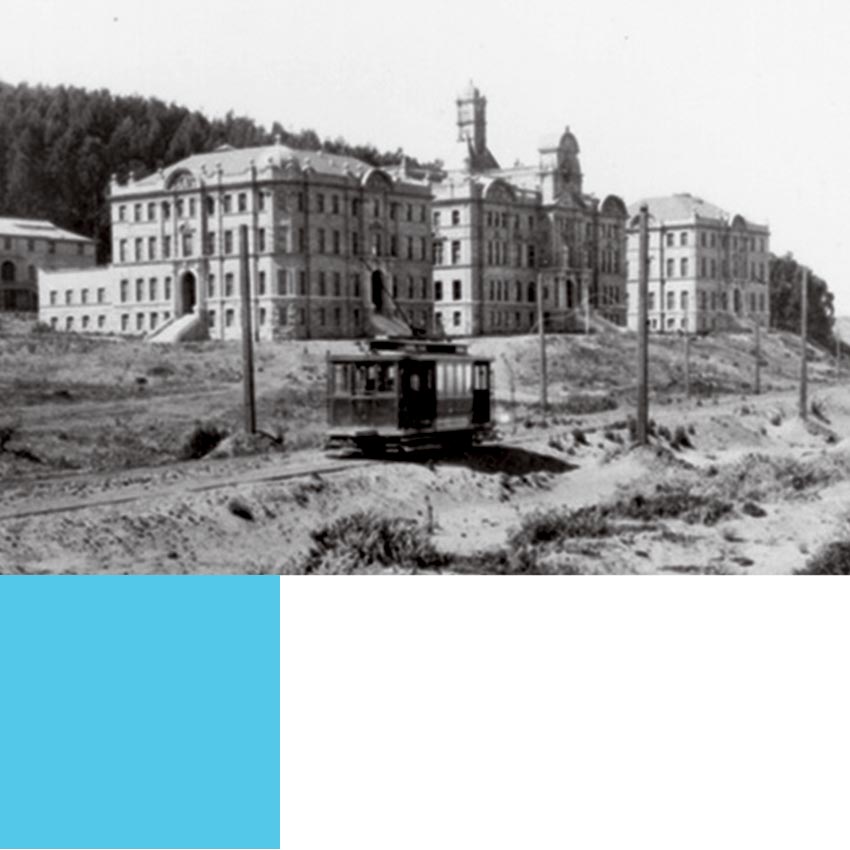 1895
Governor James Budd signs $250,000 appropriation for the Affiliated Colleges buildings. Mayor Adolph Sutro donates 13 acres of land on Mount Parnassus to UC's medical, dental, and pharmacy departments, School of Veterinary Medicine, and Hastings College of the Law.
Early Discoveries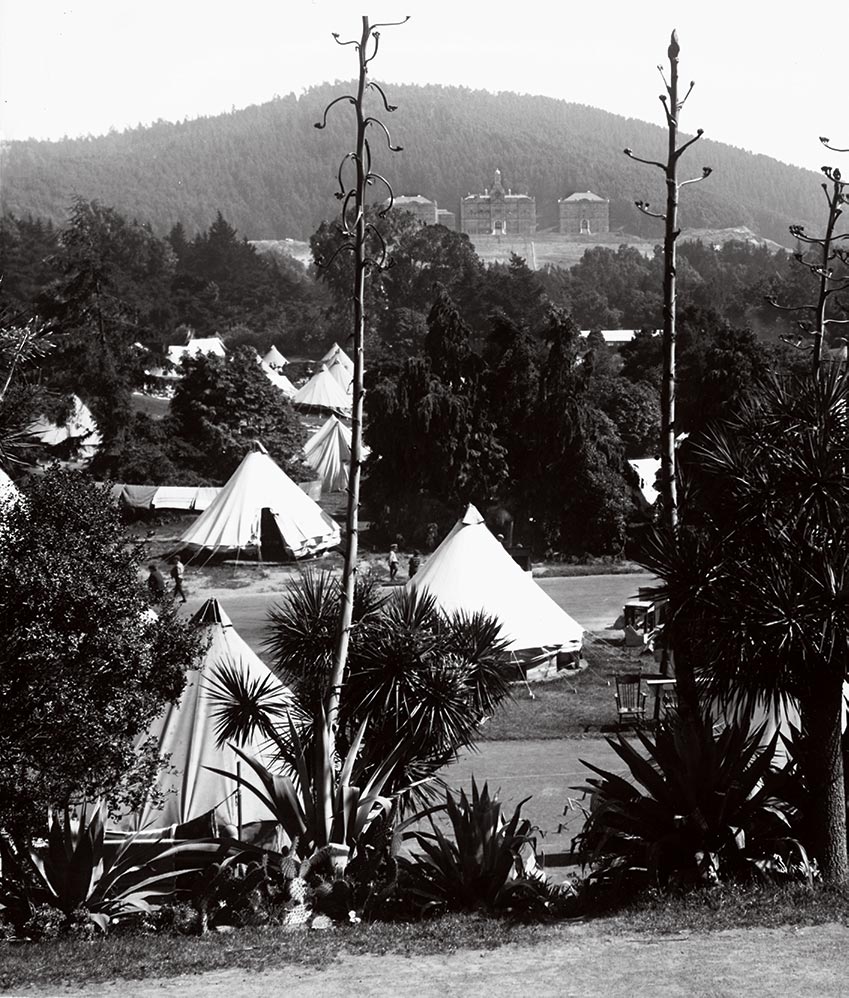 1906
San Francisco sustains a 7.7-magnitude earthquake and fire. UCSF sets up makeshift hospital for patients on Parnassus Avenue and cares for the injured among the 40,000 who take shelter in Golden Gate Park.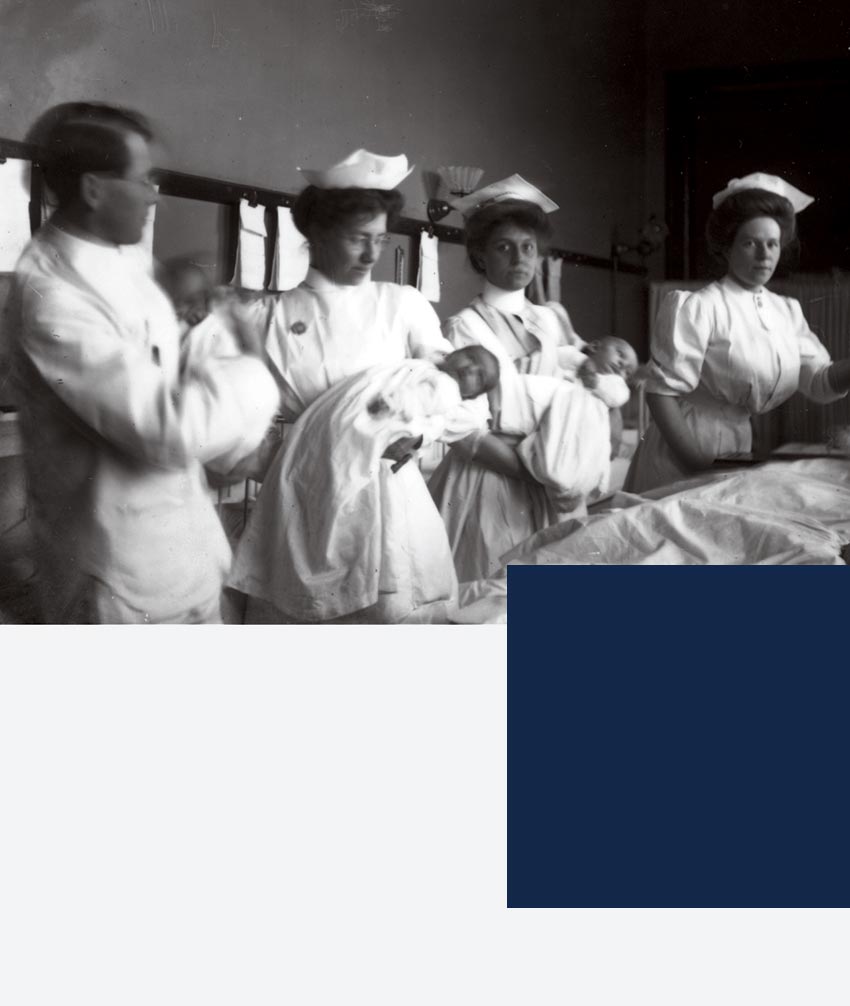 1907
UC opens its first teaching hospital, located on the Parnassus campus. University of California Training School for Nurses also founded. Margaret Crawford, a highly regarded graduate nurse from St. Luke's Hospital School of Nursing, becomes first director.
1911
Anthropologist Alfred Kroeber brings Ishi, last survivor of Yahi Indian tribe, to the Parnassus campus. Ishi, who makes the anthropology museum his home, dies of tuberculosis in 1916.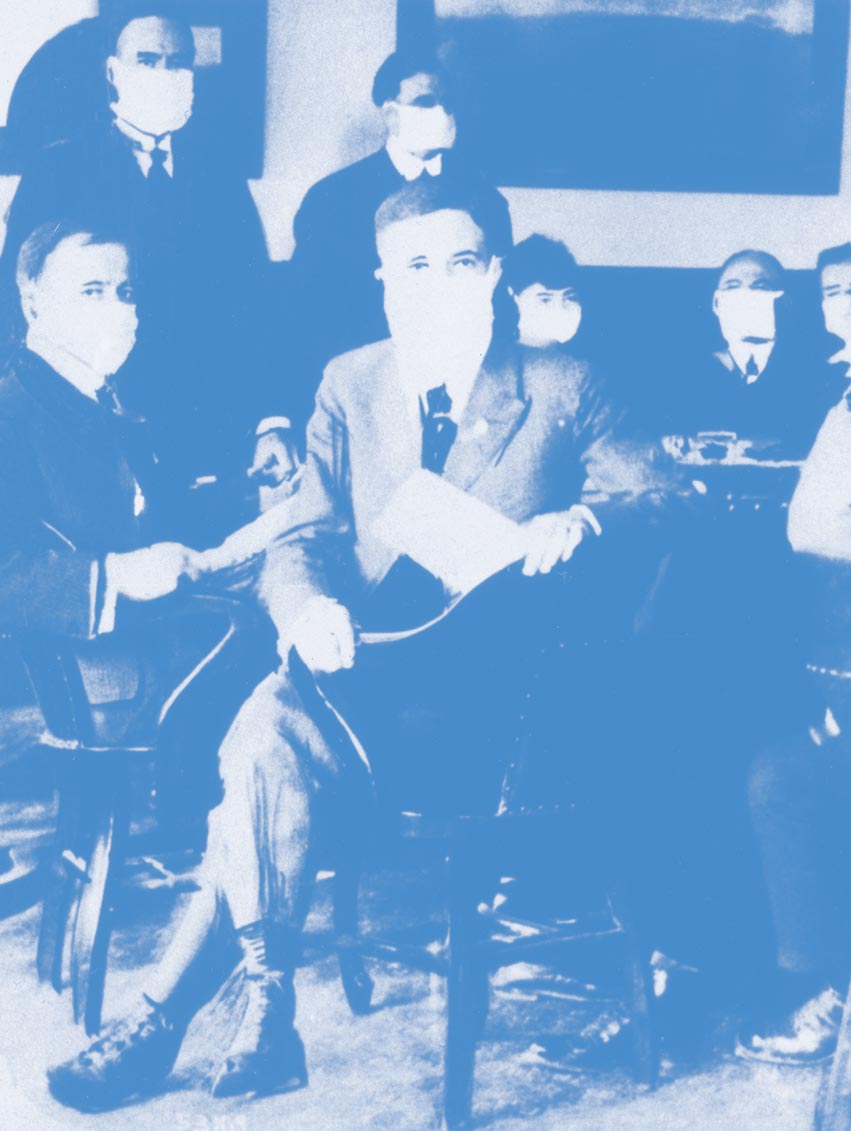 1918
1918 Influenza pandemic rages, with 23,639 reported cases in San Francisco. UC Training School deploys nurses to emergency hospitals set up throughout the city.
1923
Anatomist Herbert Evans and colleagues discover vitamin E. He also discovers animal pituitary growth hormone in the 1940s.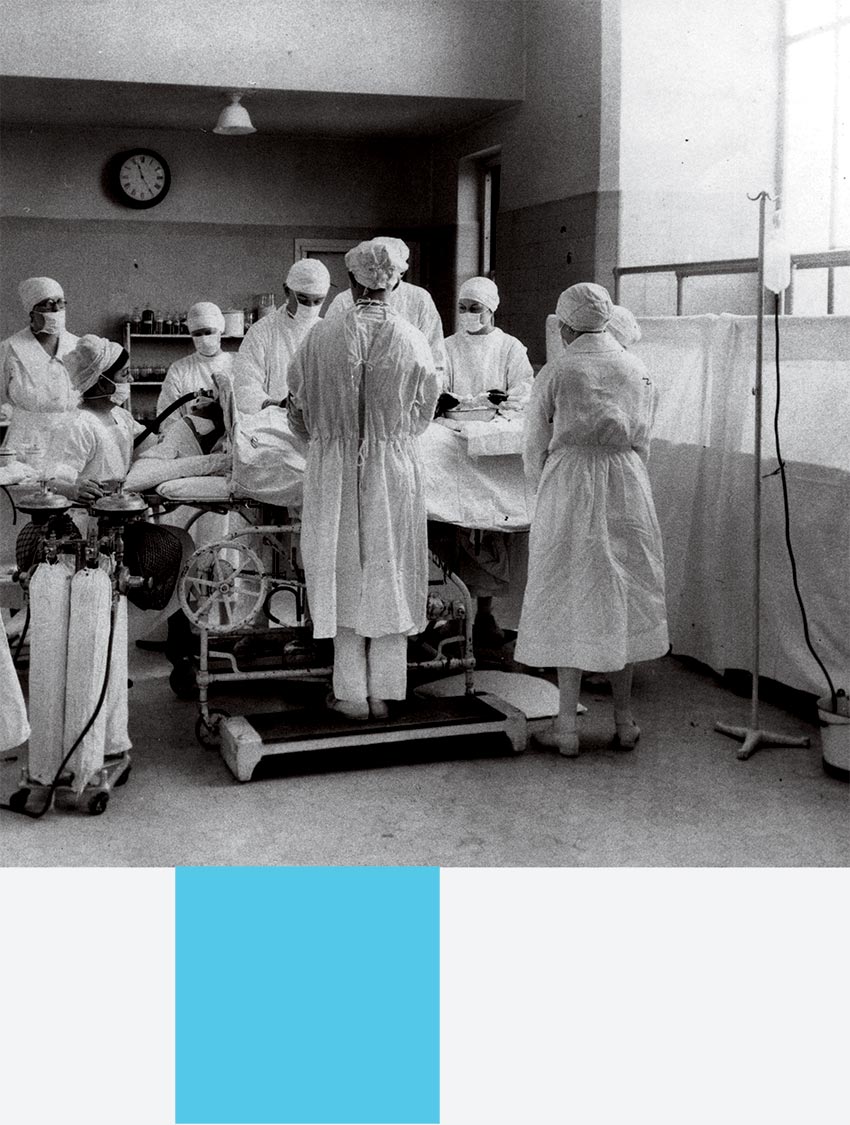 1929
Alumnus Howard Naffziger appointed chair of Department of Surgery. Develops first surgical residency program in the western United States.
Changing Times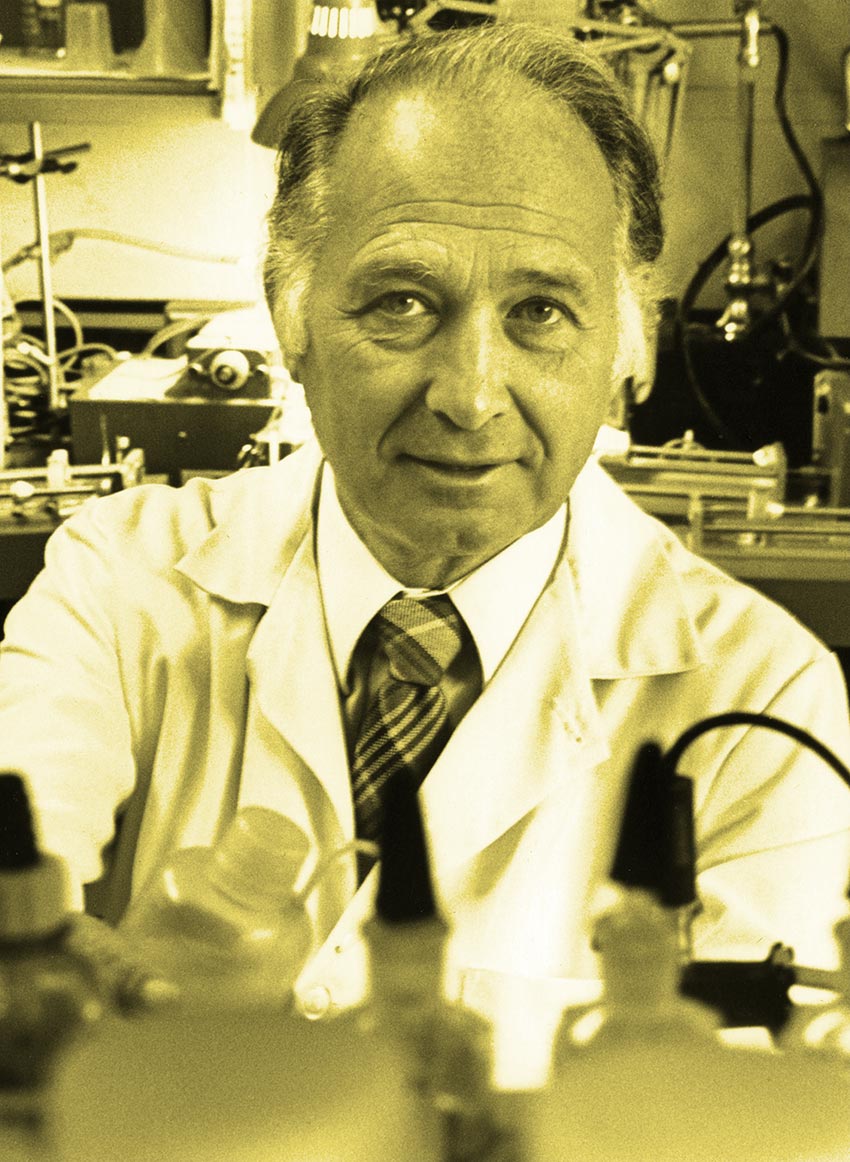 1961
UCSF establishes Graduate Division, with programs housed within all four professional schools.
1963
John Karam, later chief of clinical endocrinology, and Gerold Grodsky, now a professor emeritus, are first to link obesity to type 2 diabetes, resulting in revolutionary changes in diabetes treatment and prevention.
1964
UCSF becomes ninth campus in UC system and only one devoted exclusively to health sciences.
1964
Lloyd "Holly" Smith, chair of the Department of Medicine, nurtures what eventually becomes UCSF's world-class biomedical science research program.
1965
School of Dentistry begins mobile clinics program, establishing long tradition of community outreach to the underserved in San Francisco and the Bay Area.
1965
UC Regents approve Doctor of Nursing Science program – first in the western United States. Alumna Shirley Chater, an early professor in the program, becomes commissioner of the US Social Security Administration
in 1993.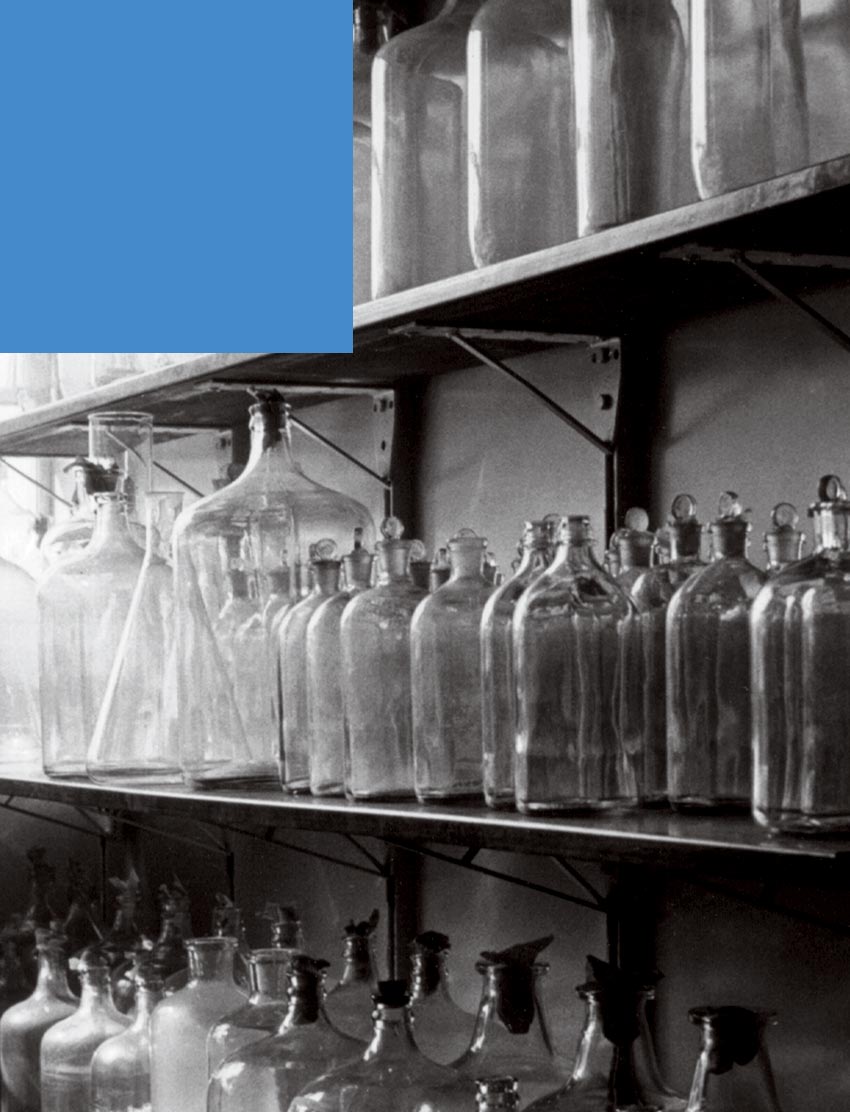 1966
School of Pharmacy tests use of clinically skilled pharmacists in a patient care setting for first time, ushering in the clinical pharmacy program – first in the US. Alumnus and Associate Dean Jere Goyan, later dean and then commissioner of the US Food and Drug Administration, was instrumental in starting the program.
1967
African-American surgeon Samuel Kountz takes over as director of the kidney transplant program, making the service the world's largest and prototyping a device to preserve the organ for hours after removal – now standard equipment in hospitals.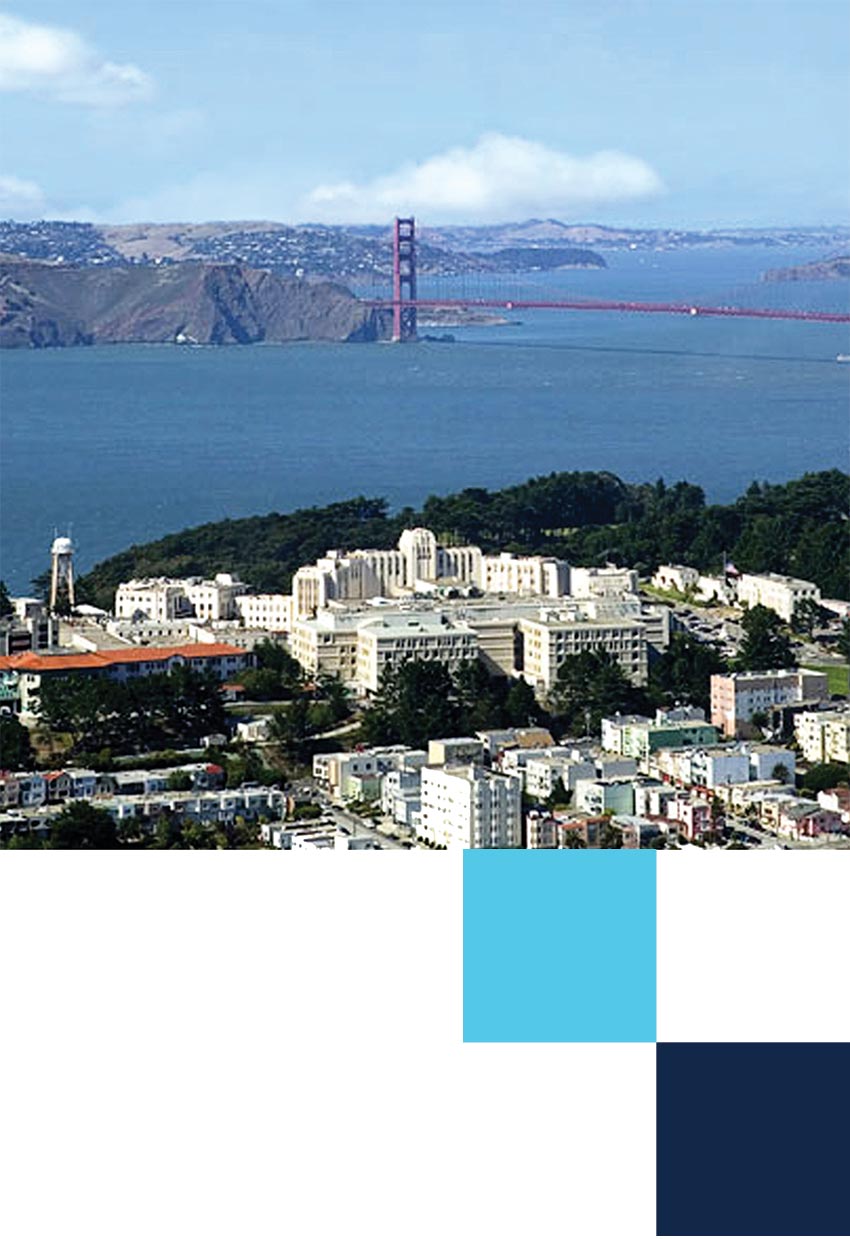 1968
After decades of collaboration, School of Medicine agrees to manage patient care, teaching, and research at the San Francisco VA Medical Center.
1969
Four UCSF faculty – John Clements and alumni William Tooley, Roderic Phibbs, and George Gregory – pioneer a treatment for infant respiratory distress syndrome that dramatically improves babies' survival rates. A decade later, Clements, Phibbs, and colleagues develop synthetic surfactant.
Birth of Biotech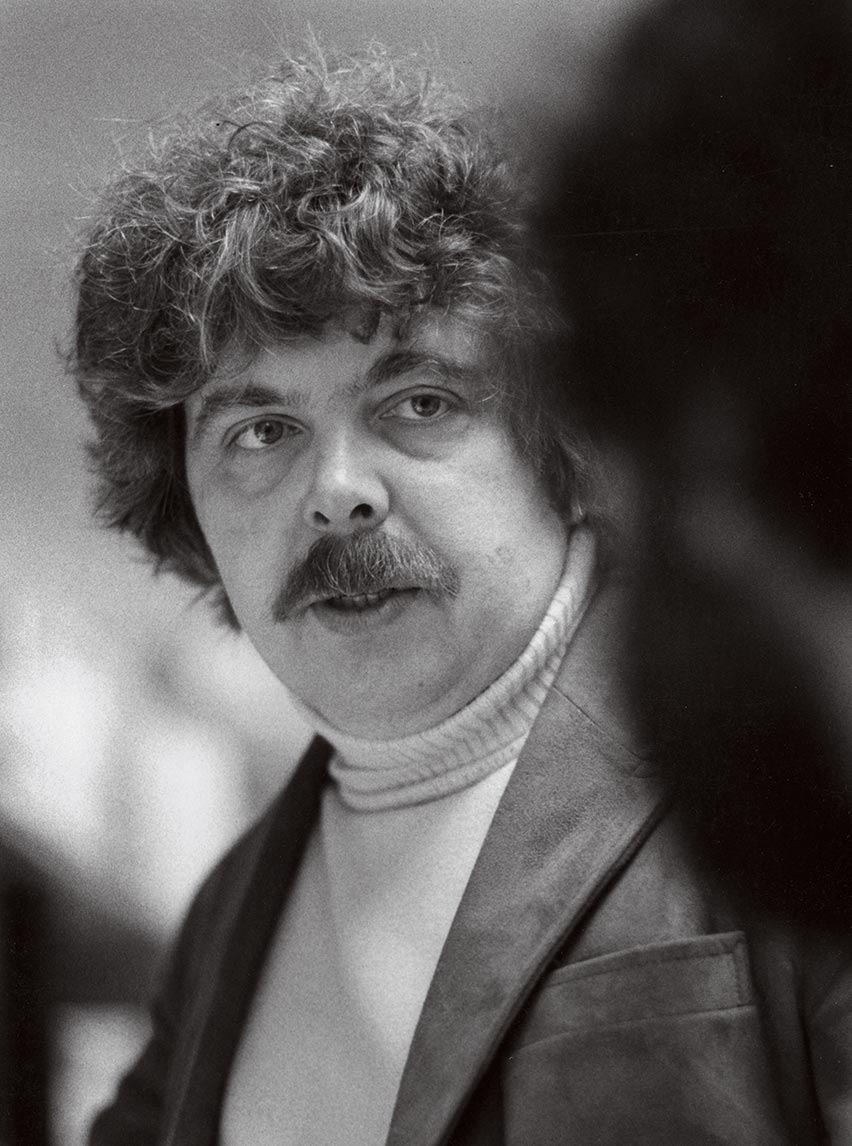 1973
UCSF's Herbert Boyer and Stanford's Stanley Cohen develop recombinant DNA technology, revolutionizing biology and spawning the biotechnology industry. Three years later, Boyer cofounds Genentech, world's first biotech company. UCSF postdoctoral alumnus Arthur Levinson joins Genentech in 1980 as one of its first scientists and later serves as CEO. Boyer and collaborators win Albert Lasker Basic Medical Research Award (1980), National Medal of Technology (1989), and National Medal of Science (1990).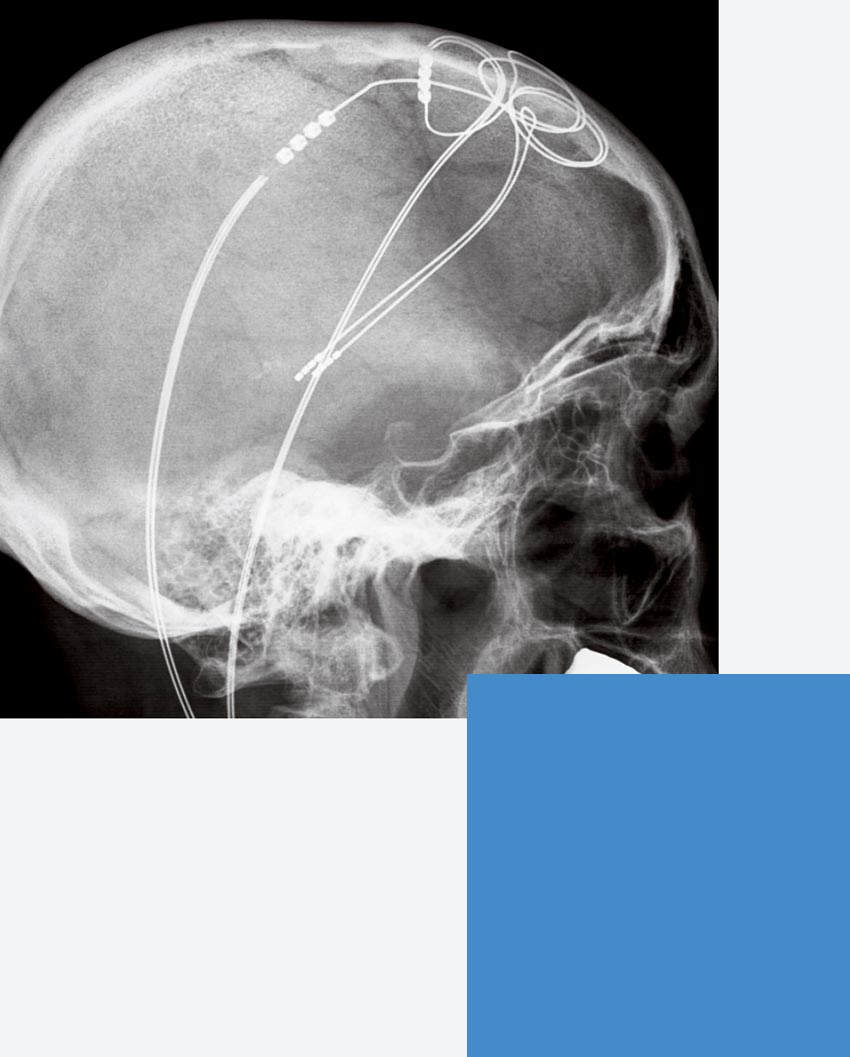 1974
Neurosurgeons John Adams, an alumnus, and Yoshio Hosobuchi use a breakthrough technique called deep brain stimulation, inserting an electrode deep in the brain to activate the body's own pain control centers and relieve chronic, debilitating pain.
1976
Y.W. Kan, internationally recognized geneticist, pioneers design and implementation of prenatal DNA screening tests for sickle cell anemia, thalassemias, and  other single-gene disorders. Kan wins many honors, including Albert Lasker Clinical Medical Research Award (1991) and Shaw Prize in Life Science and Medicine (2004).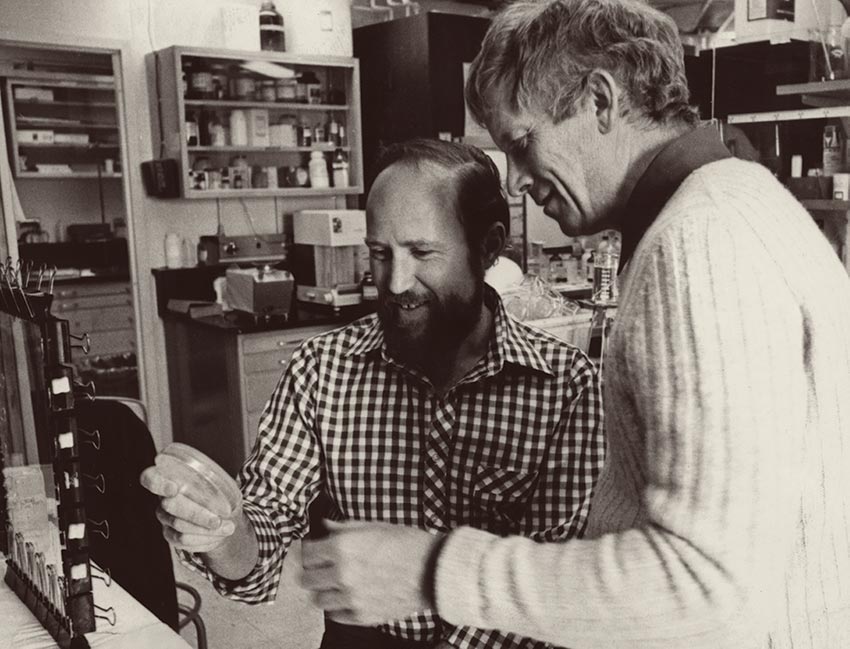 1977
Biochemist William Rutter and colleagues achieve first major triumph of genetic engineering by isolating gene for rat insulin and transplanting it into bacteria. Leads to mass production of genetically engineered insulin to treat diabetes.
1979
Otolaryngologists Robin Michelson and Robert Schindler, both alumni, and neuroscientist Michael Merzenich, a pioneer in brain plasticity research, develop the first neural prosthetic – a cochlear implant that enables the deaf to hear.
1981
Anatomy Professor Gail Martin isolates precursor cells from mouse embryos – and coins the term "embryonic stem cells" – laying groundwork for worldwide research on use of human embryonic stem cells to treat disease.
1981
Michael Harrison, international expert in fetal surgery, along with Mitchell Golbus, an alumnus, and Roy Filly, performs first successful corrective procedure on a fetus still in the mother's womb, pioneering the clinical specialty of fetal diagnosis and in utero treatment. He establishes first fetal treatment center in the US.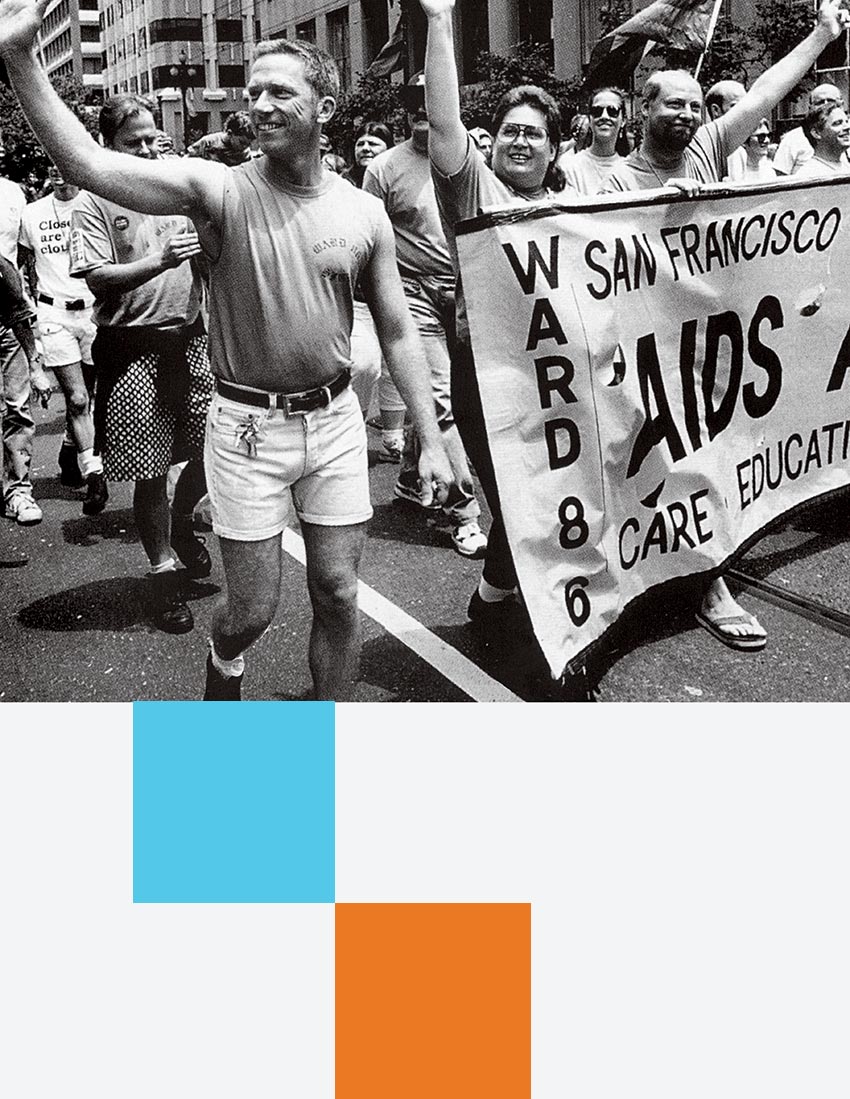 1983
UCSF virologist Jay Levy, an alumnus, codiscovers HIV, the virus that causes AIDS. He and colleagues go on to make many early observations about AIDS, including the description by School of Dentistry faculty John Greenspan and Deborah Greenspan of hairy leukoplakia, often the first sign of HIV infection.
1983
SFGH Chief of Medicine Merle Sande and others develop nation's first outpatient AIDS clinic and first inpatient ward. With other experts, including alumni Julie Gerberding and Paul Volberding, he crafts the San Francisco model of AIDS therapy, a rational approach designed to avoid paranoia. Gerberding later becomes first woman to direct US Centers for Disease Control and Prevention.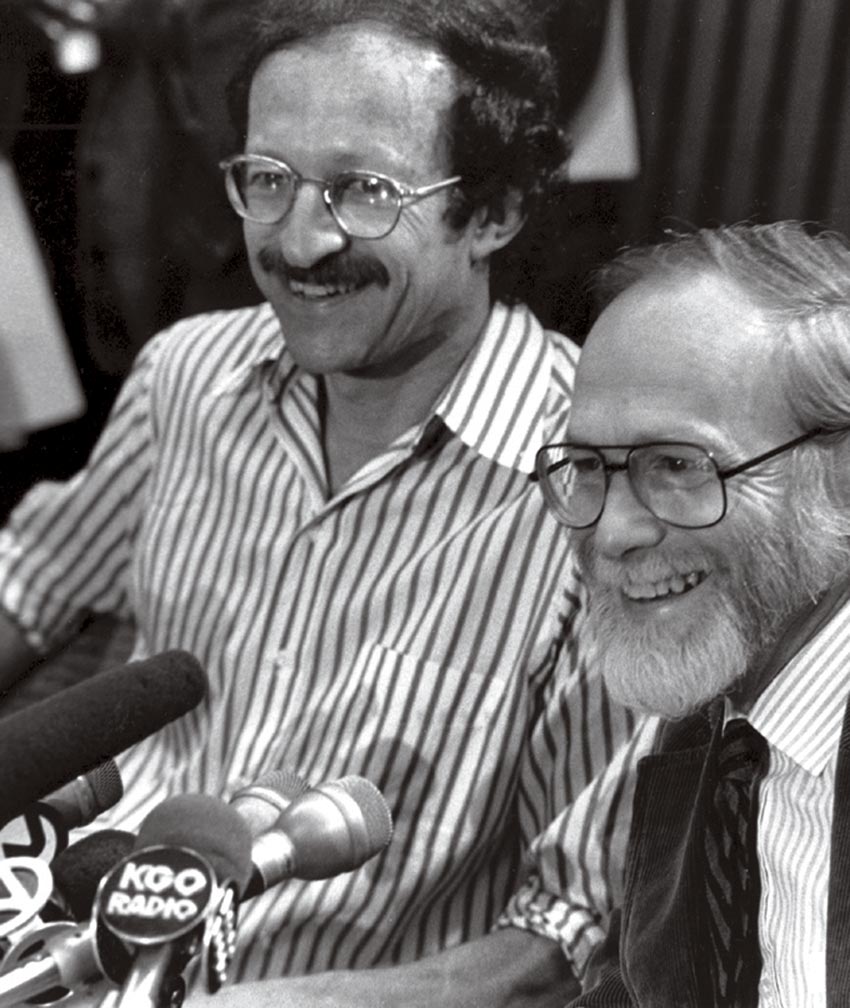 1989
J. Michael Bishop and Harold Varmus win UCSF's first Nobel Prize for discovering proto-oncogenes, normal genes that demonstrate the potential to convert to cancer genes. This transforms the way scientists look at cancer and leads to new strategies for detection and treatment.
1995
Alumnus and Professor Stanton Glantz publishes landmark Journal of the American Medical Association summary of Brown & Williamson documents, revealing the tobacco industry knew since 1962 that nicotine is addictive and smoking causes cancer.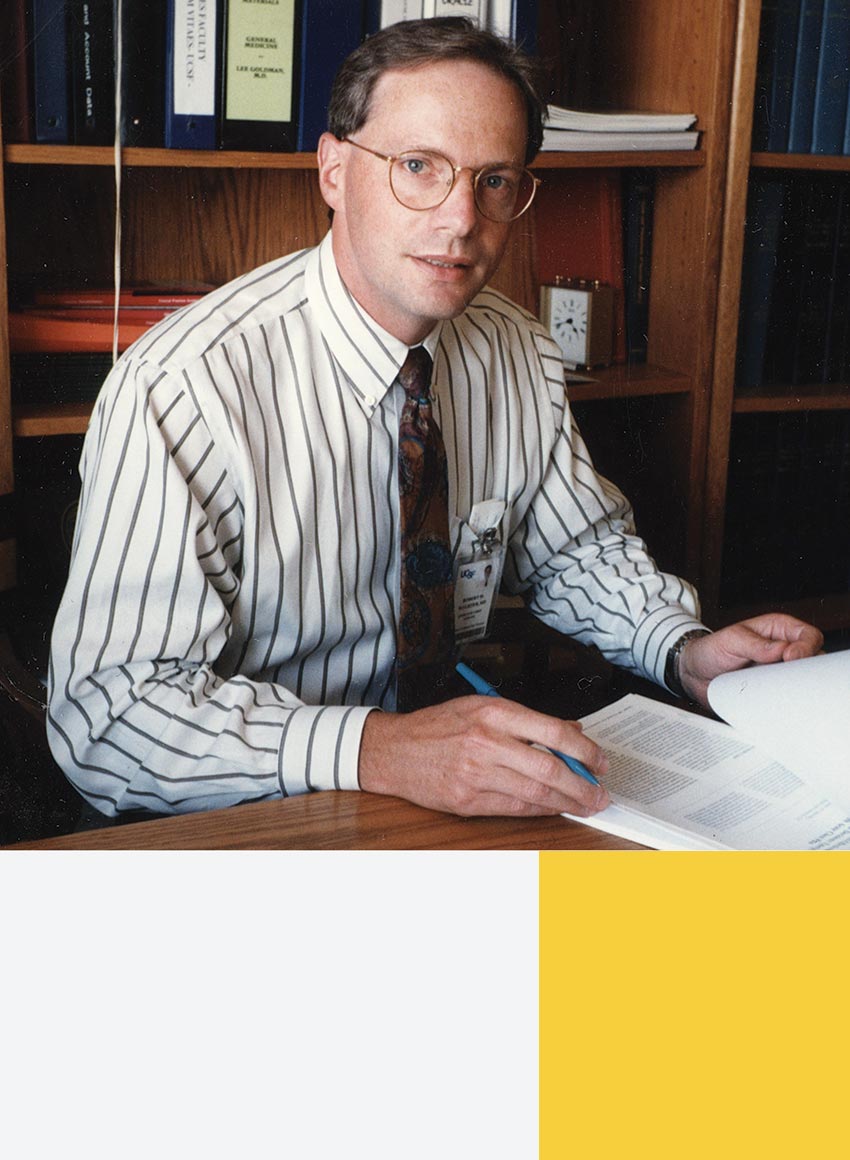 1996
Alumni and faculty members Robert Wachter, noted patient safety expert, and Lee Goldman, chair of medicine, coin the term "hospitalist" in a New England Journal of Medicine article. Hospitalists focus on caring for hospitalized patients; the field is now medicine's fastest-growing specialty.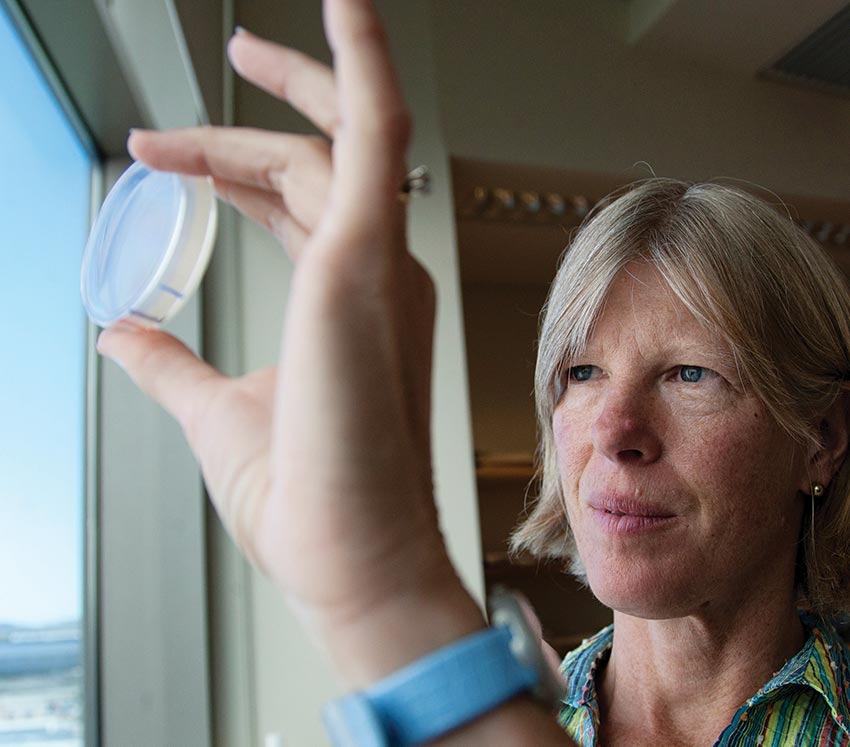 1997
Cynthia Kenyon discovers gene activity can be manipulated to alter life span, as evidenced by research showing that changes in a single gene in C. elegans more than double the roundworm's life span.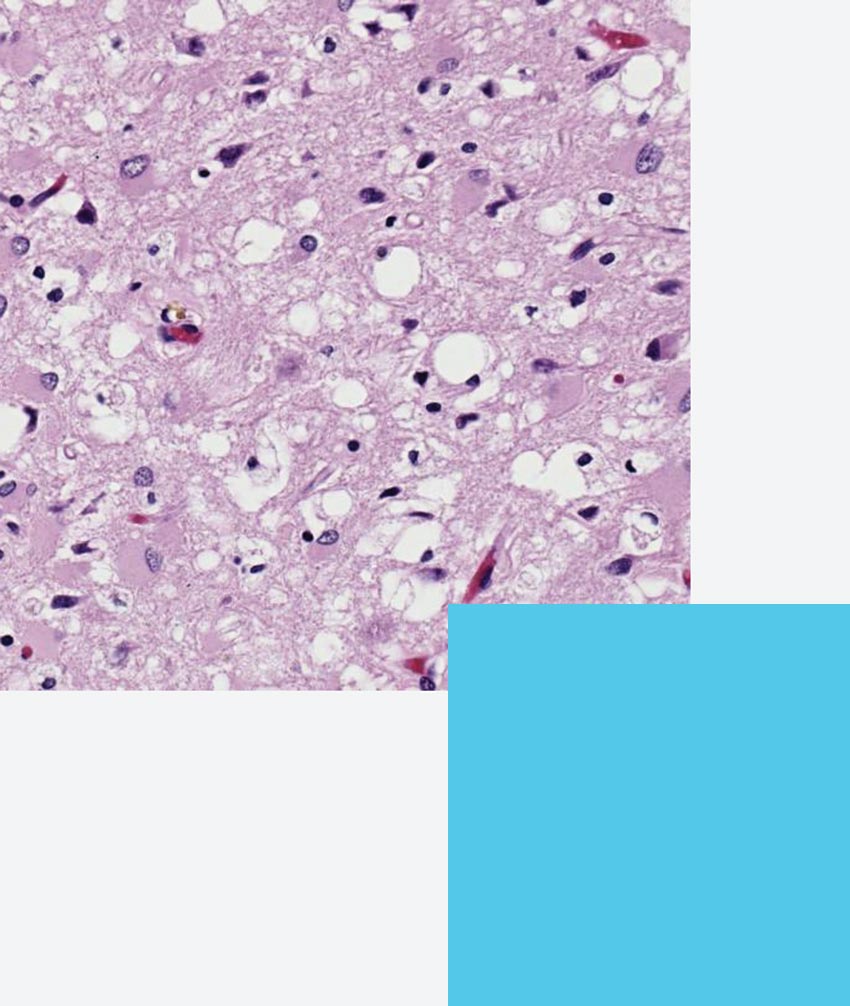 1997
Alumnus and faculty member Stanley Prusiner wins Nobel Prize for his discovery of prions, infectious pathogens that cause fatal neurodegenerative diseases such as bovine spongiform encephalopathy, known as "mad cow disease."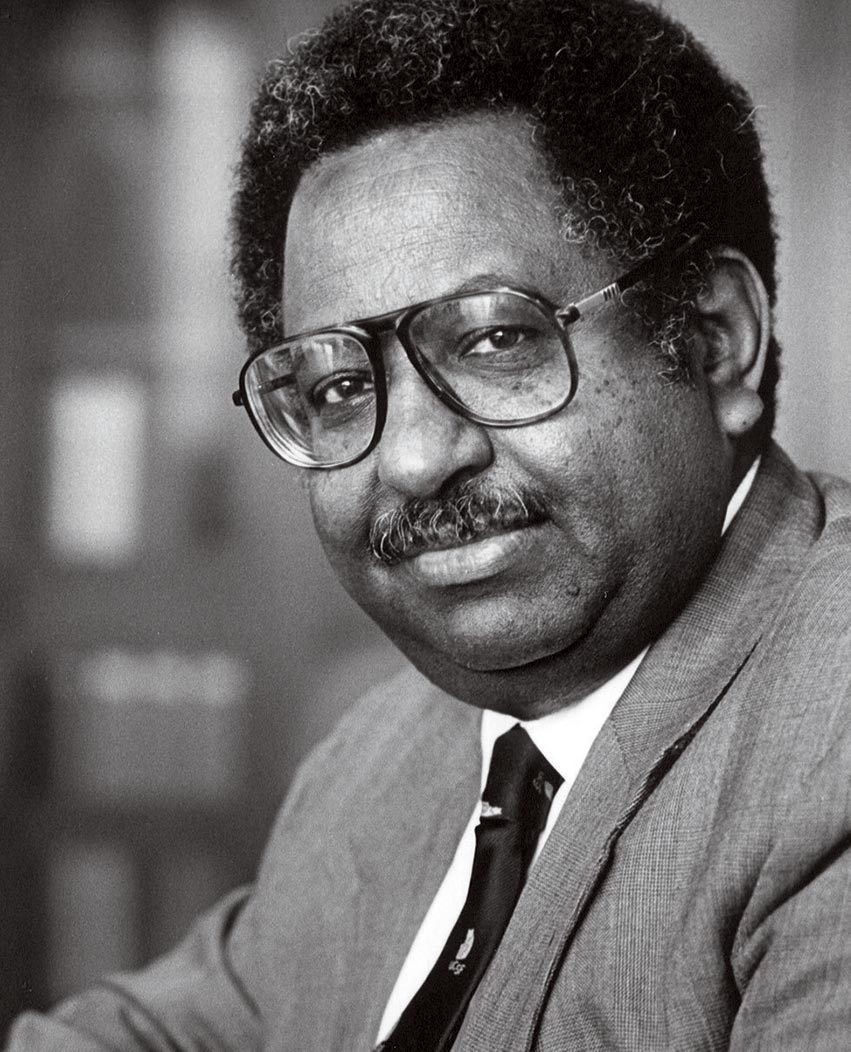 1997
Haile Debas becomes UCSF's seventh chancellor. In 2003, he founds Global Health Sciences, integrating UCSF expertise in all of the health, social, and biological sciences and focusing it on pressing issues in global health.
Mission Bay and Beyond
1999
UCSF breaks ground for the first research building at Mission Bay; the $3-billion campus is considered the most important single endeavor UCSF has undertaken in its history.
2001
Roger Pedersen leads creation of two of the first human embryonic stem cell lines in the world, enabling scientists to study how stem cells might be used to treat cancer, heart disease, diabetes, and birth defects.
2002
Alumnus Richard Carmona, noted trauma surgeon and police officer, is appointed US surgeon general by President George W. Bush.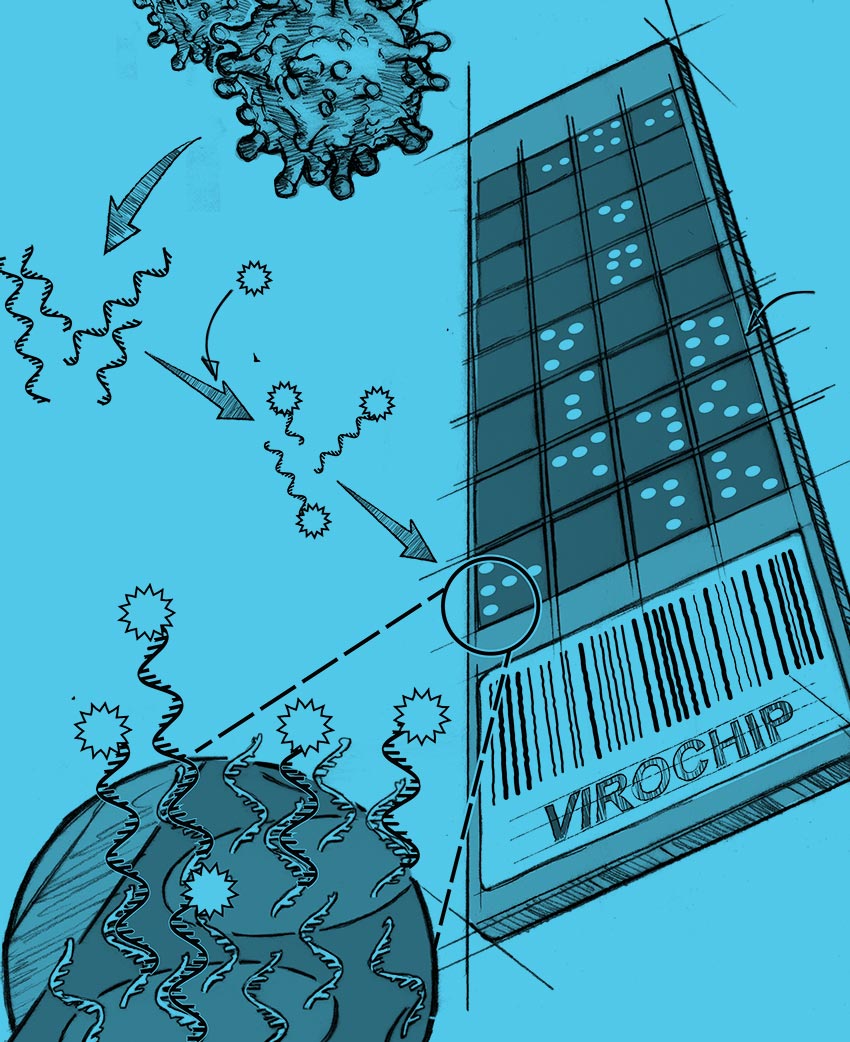 2002
Two faculty members – biochemist Joseph DeRisi and virologist and alumnus Donald Ganem – develop the ViroChip, a microarray containing DNA from every known virus. First used in 2003 to identify the virus that causes severe acute respiratory syndrome (SARS), it has proven to be a valuable experimental diagnostic tool for identifying previously unknown viruses in both humans and animals.
2002
Jeffrey Bluestone, now executive vice chancellor and provost, demonstrates through clinical trials that a new immunosuppressive drug successfully halts the progression of type 1 diabetes.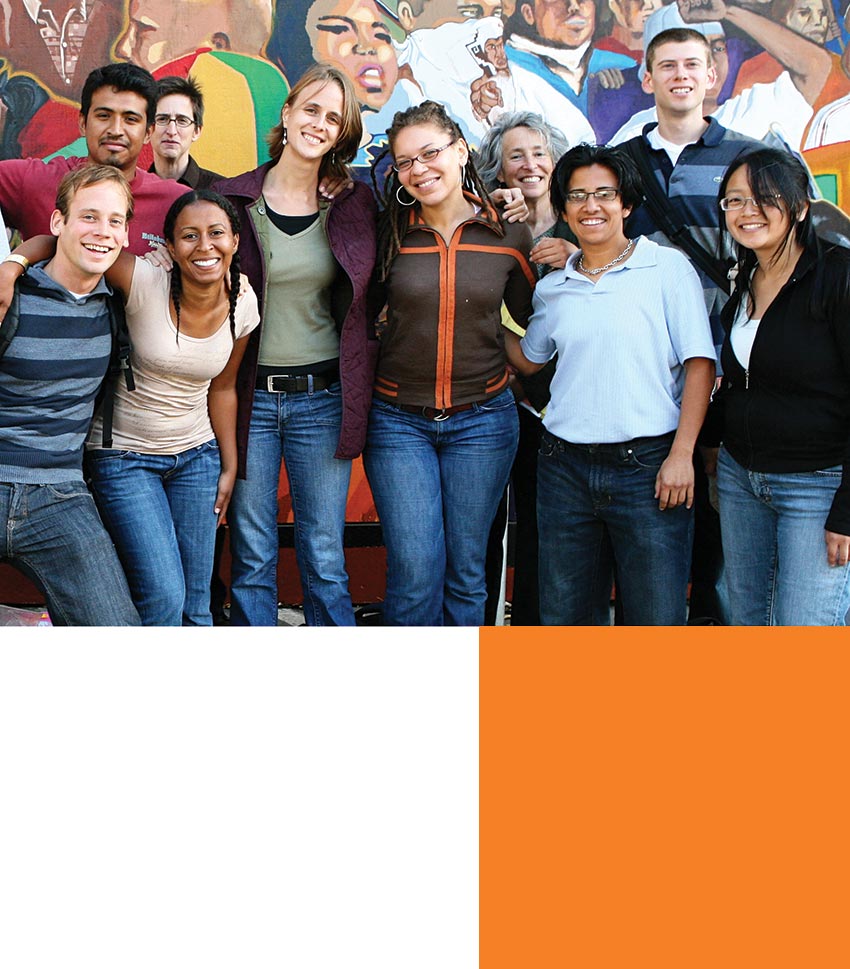 2007
School of Medicine expands enrollment for first time in three decades with launch of Program in Medical Education for the Urban Underserved (PRIME-US), aimed at educating and inspiring students to address health disparities.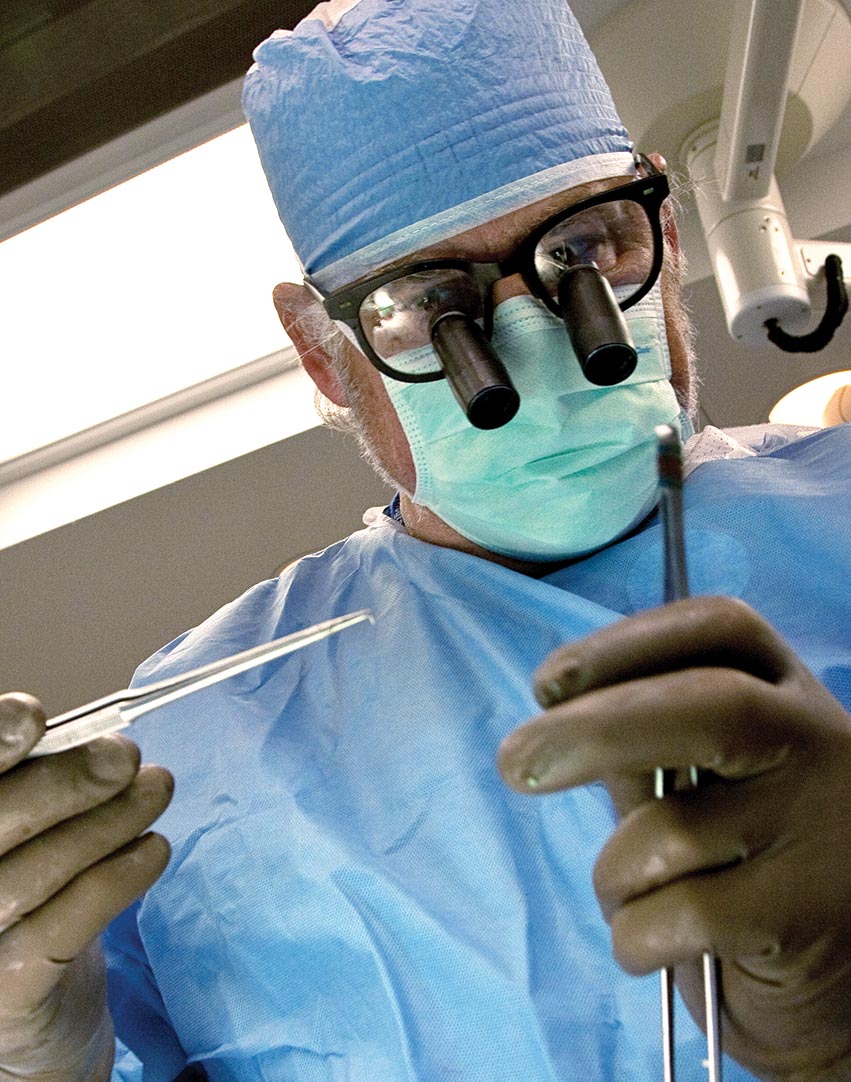 2008
Surgeons Nancy Ascher, Charles Hoopes, and John Roberts perform the 10,000th procedure in the UCSF Organ Transplant Service, one of the largest and oldest in the world.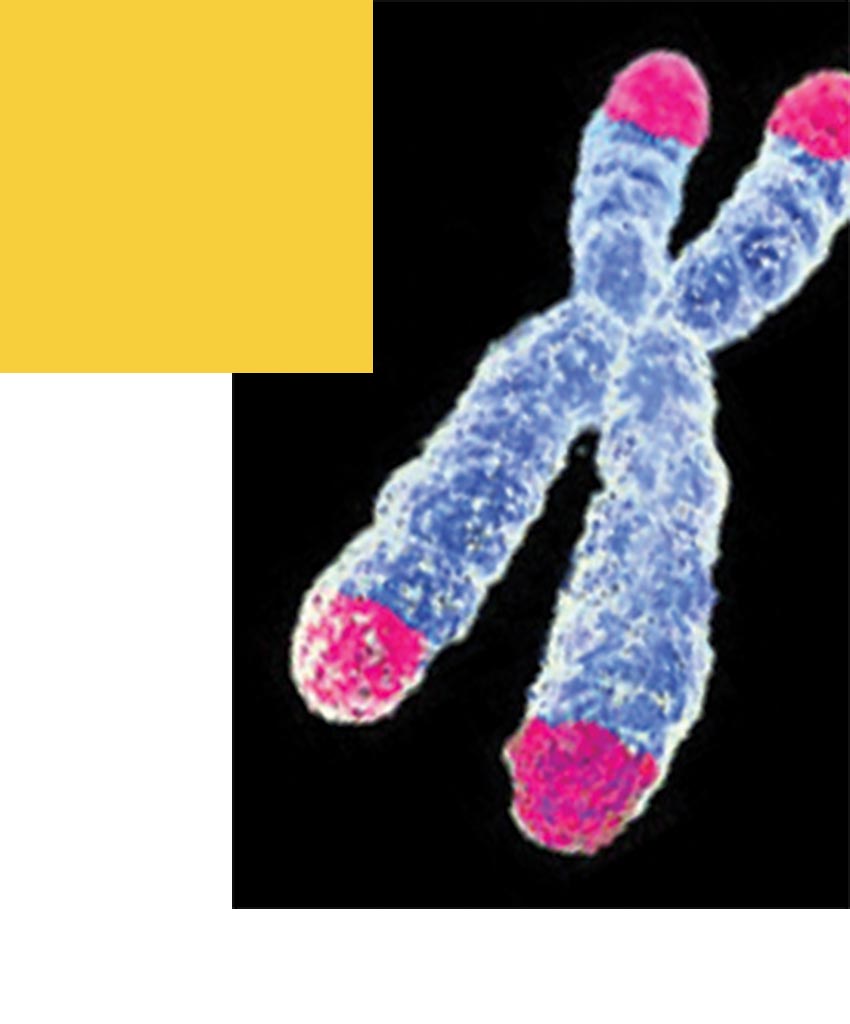 2009
Molecular biologist Elizabeth Blackburn receives, with two other scientists, Nobel Prize for codiscovering telomerase, an enzyme that is key in normal cell function, cell aging, and most cancers.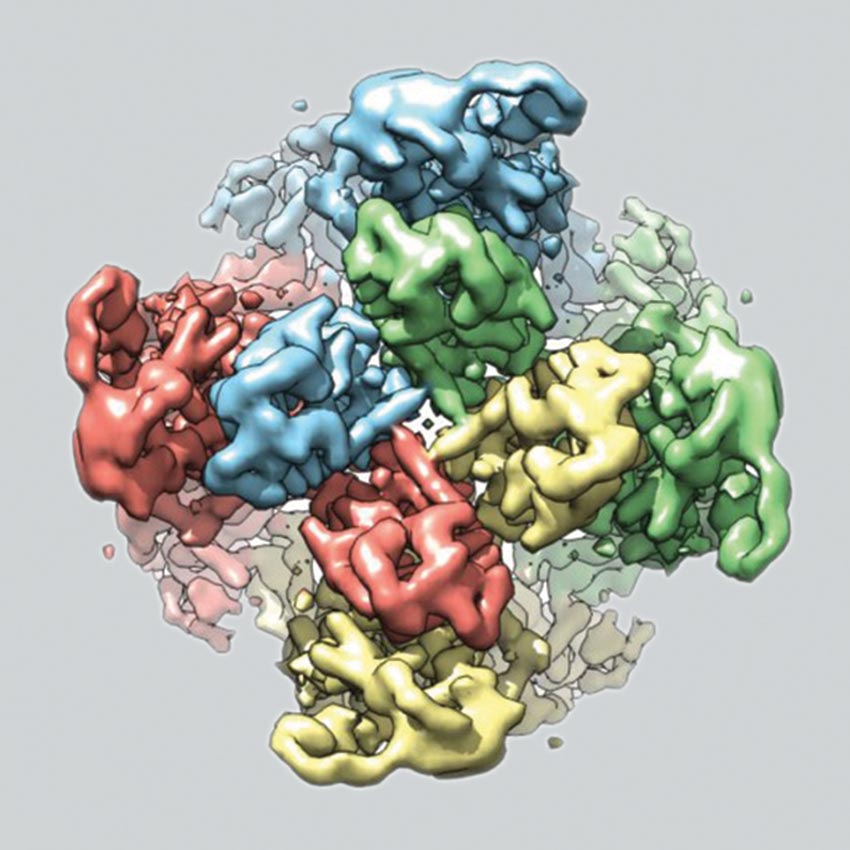 2010
Physiologist David Julius wins Shaw Prize in Life Science and Medicine for discovering molecular mechanisms by which the sense of touch allows us to perceive pain, temperature, and other sensations.
2012
UCSF Professor Shinya Yamanaka, senior investigator at the UCSF-affiliated Gladstone Institutes, shares Nobel Prize for discovering how to transform ordinary adult skin cells into cells that, like embryonic stem cells, are capable of developing into any cell in the human body.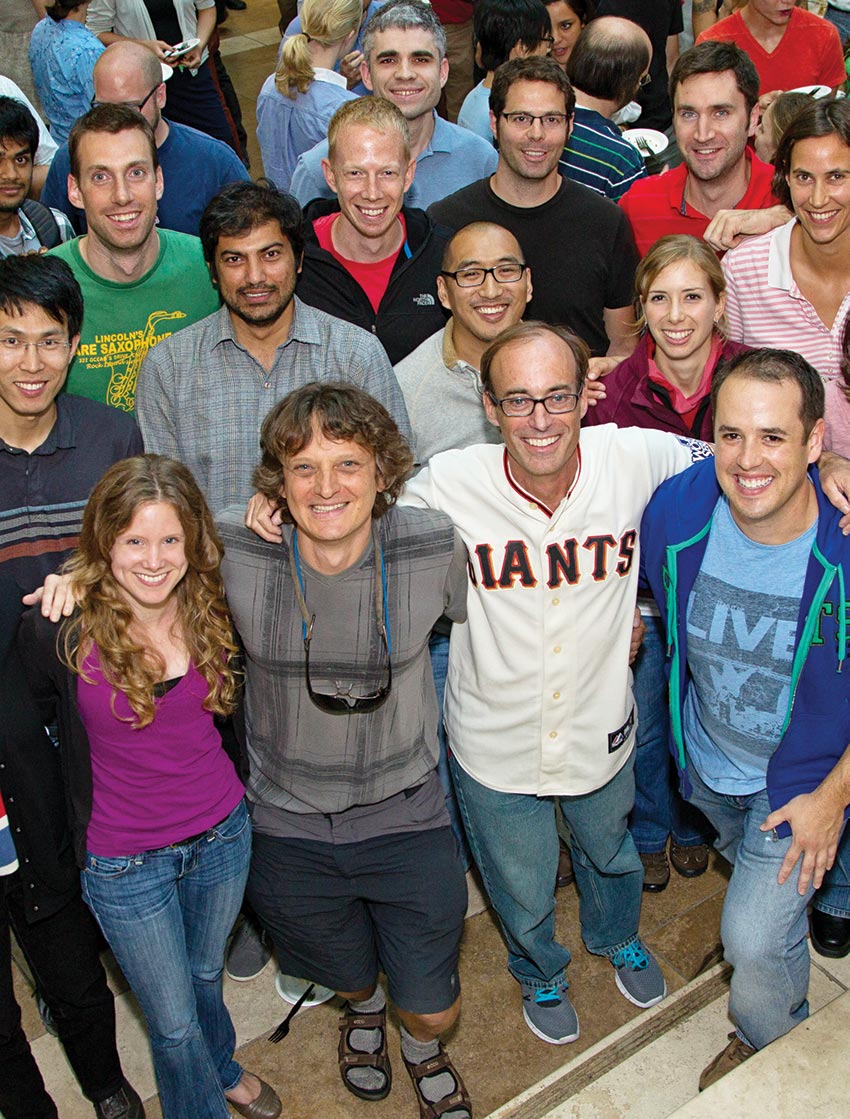 2012
Ronald Vale and two other scientists win Albert Lasker Basic Medical Research Award for work spanning three decades that has helped illuminate how the heart beats and how cells transport material internally.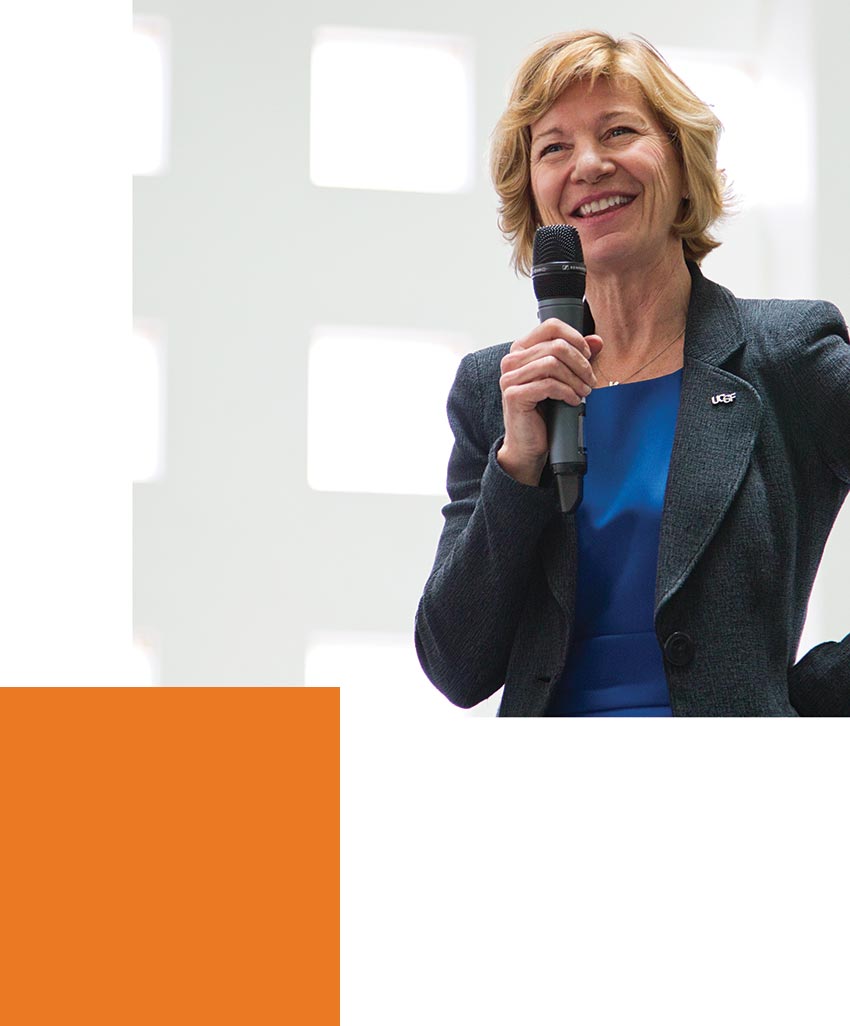 2013
Led by alumna and precision medicine pioneer Chancellor Susan Desmond-Hellmann, UCSF convenes more than 170 of world's foremost thinkers, creators, and innovators for first-ever OME Precision Medicine Summit to identify ways to make medicine more predictive, preventive, and precise. In 2014, Desmond-Hellmann becomes CEO of the Bill & Melinda Gates Foundation.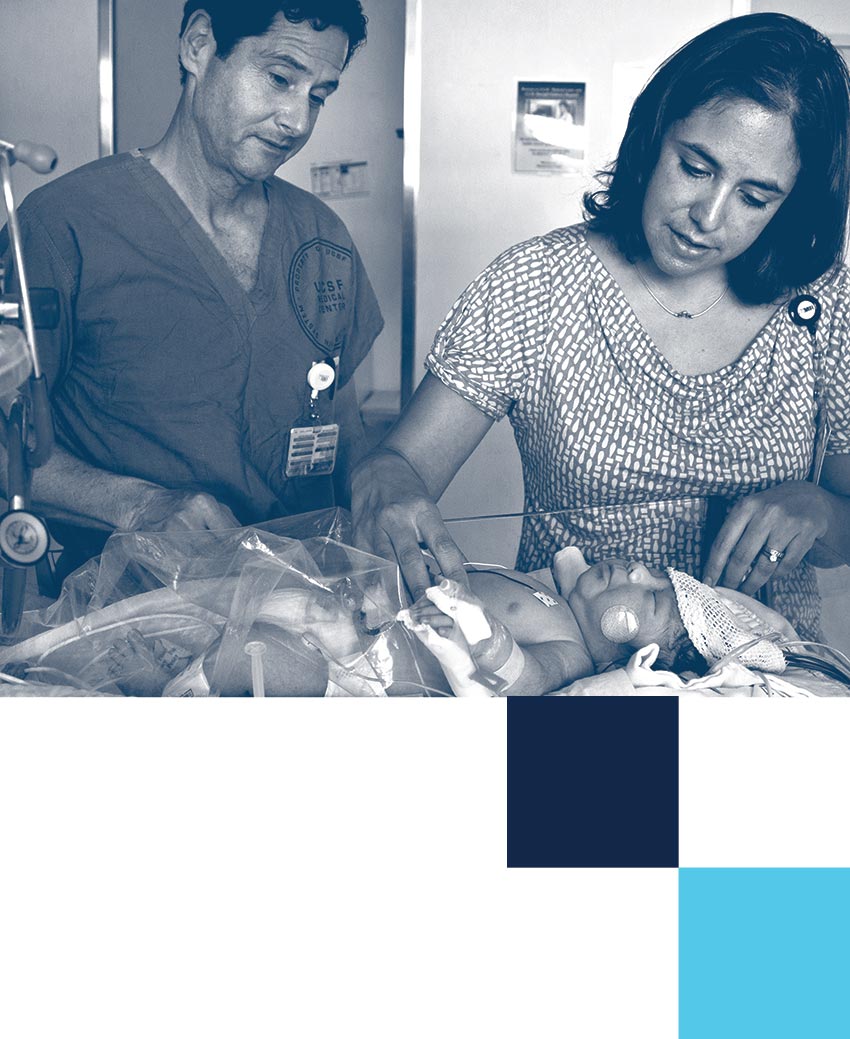 2014
UCSF Benioff Children's Hospital affiliates with Children's Hospital & Research Center Oakland, building on the institutions' mutual commitment to provide outstanding care for children in local communities and to advance medical discovery and treatment for the world. Together, the hospitals are named UCSF Benioff Children's Hospitals.
Images: AJ Cann, Cindy Chew, Elisabeth Fall, Robert Foothorap, Janet Fries, Hellerhoff, Maofu Liao, Susan Merrell, David Powers, David Schumick, Wun-Ju Shieh, UCSF Archives & Special Collections, Sherif Zaki