Not Yet A Doctor but Still Finding Ways to Serve
After shelter-in-place orders shuttered academic institutions across the country, medical student Joseph Kidane organized with hundreds of his UCSF peers into a COVID-19 volunteer workforce.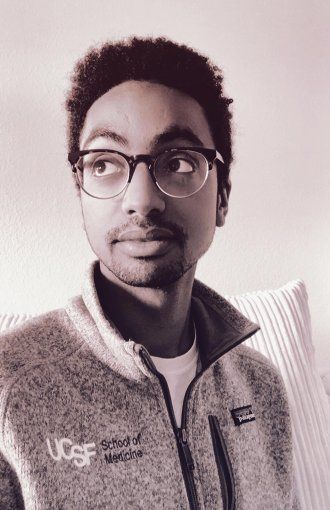 Medical students' days are typically packed full of classes and clinical rounds. But when the coronavirus pandemic forced UCSF to close in mid-March, many students found themselves in the unfamiliar position of having little to do.
But they didn't sit idle. They jumped into the fray, securing safety gear for health workers, educating the public, and helping quarantined hospital patients make video calls to family and friends. Joseph Kidane, now in his third year at UCSF Medical School, describes how students rallied to assist in the crisis any way they could.
---
On March 16, San Francisco issued the first shelter-in-place orders in the country. How did those orders affect you?
We third-year students were pulled from our clinical rotations. PPE was limited, and so UCSF Health hospitals had to prioritize providers and patients. It was the right decision to pull medical students.
At the same time, rotations are the heart and soul of medical school. I had just started my clinical rotations in January. Being in the hospital, being with patients, and learning from great physicians – that's what I had envisioned when I applied to medical school. It was hard to finally get a little taste and then suddenly have to put your dreams on hold.
Did you worry about your safety or your family's safety?
I instantly thought of my mother, who is a nurse, and my father, who is in his 70s. They live in Southern California, in Orange County. I was scared that if I were to visit them, I would put them at even greater risk of getting COVID than they already are.
It's also been difficult to see black communities disproportionately suffer from this pandemic. African Americans are experiencing higher rates of death and hospitalization. I look at myself every day in the mirror, and that's who I am. That's who my whole family is.
What did you do after the campus was closed down?
At first, I thought, "What do I do with my day?" Then I started talking with other students online. There was a sense of urgency to do something to assist in the crisis. Within about two weeks, we had formed the COVID-19 Student Aid Team.
One of the first things I got involved in was running PPE drives to collect masks, gloves, and other safety equipment from the community. Toward the end of March, we were told that UCSF hospitals had maybe two weeks of PPE left. The weekend I volunteered, we set up a cardboard sign and donation bins on the corner of 18th and Dolores Street. We ended up collecting over 15,000 items through these drives.
It was beautiful to see this grassroots effort, but I wish our country wasn't in a state where we had to choose whether PPE was in the hands of our community or in the hands of health care workers. There really should have been enough for everybody.
How else has the Student Aid Team helped out?
We made a really fun video for the public to help people sort through all of the complex and confusing information about COVID-19. Instead of us being the learners, we thought, "Why don't we be the educators?"
Now I'm working on a project with some medicine residents called Connecting During COVID. Hospitalized patients are restricted from having visitors due to concerns about spreading the virus. So we're using tablets to connect patients with their loved ones and friends outside of the hospital.
How does it feel to help make those connections?
It can be very emotional. Recently, I helped a patient video-chat with his brother, who was starting on hospice care. He wanted to talk with his brother before his brother passed. I held the tablet for him. They said, "I love you," "I love you," "I love you" – back and forth, fearing it might be their last chance. I was glad I could facilitate that.
Have you had other memorable moments with patients?
The other week, I got to shadow a geriatrician on a home call. We did it on Zoom. The patient was reaching the end of his life and had decided to enter hospice care. He didn't want to go into the hospital and die alone. He wished to be with people in his last moments.
It made me wonder: Would his decision have been different if we weren't in the middle of a pandemic? He was very ill, so maybe not. I had heard that patients were avoiding the hospital because of COVID. But seeing it firsthand – that was eye-opening for me.
How have you adjusted to doing your clinical learning on Zoom?
In the beginning, I was a little apprehensive. I was like, "How am I supposed to connect with a patient if there's a screen between us?"
It's true that you miss out on subtleties that you see in person, like if someone's fidgeting with their hands because they're anxious. But I realized that with telehealth visits, you're very much still able to connect. Plus, you get a window into someone's life outside of the exam room, which gives you another perspective. For example, I was on a call with a patient where you could see the house was unkempt; you could just tell that the family was going through difficult times.
It's remarkable how much of health care has moved online these past couple months. Before the pandemic, UCSF Health did about 2% of its medical screenings over video. Now that number is at about 60%.
Yeah, telemedicine is becoming the new norm. There are a lot of benefits. You're able to reach people who aren't able to leave their homes, or who are in rural areas, or who have trouble getting to a health care site. One silver lining of this pandemic is that it has given us a jump start into this new landscape of health care.
Has the pandemic changed how you feel about becoming a doctor and what you want to do with your career?
I used to primarily think about the role of the physician within the walls of a hospital and in relation to individual patients. Now I see the physician's obligation to the health of the public. Sadly, we are seeing areas of the country now where social distancing policies are negligently being ignored or reversed. I believe doctors should advocate for policies that ensure the safety of people – especially people of color, who are disproportionately at risk, and essential workers, who do not have the option of sheltering in place. 
This pandemic is affecting everyone, and no one's immune to it. But I think of all the frontline health care workers and their tremendous efforts and sacrifices, and it makes me feel a lot more courageous about my future endeavors. There really is a lot of good that can be done in the world, especially when we come together.
More from this Series
ICU nurse Kelly Timothy, RN, cares for some of the Bay Area's sickest patients – and their families.