The towering steel sculpture "suggests the balance of hard work and aspiration that enables dreams to take flight," according to its creator, renowned artist Mark di Suvero. 
Four giant legs rise to a vertex, topped by several steel circles. Above them, four beams fan out from one another like the fingers of a splayed hand, rotating slightly in the wind on low-friction bearings. Dreamcatcher, di Suvero named it.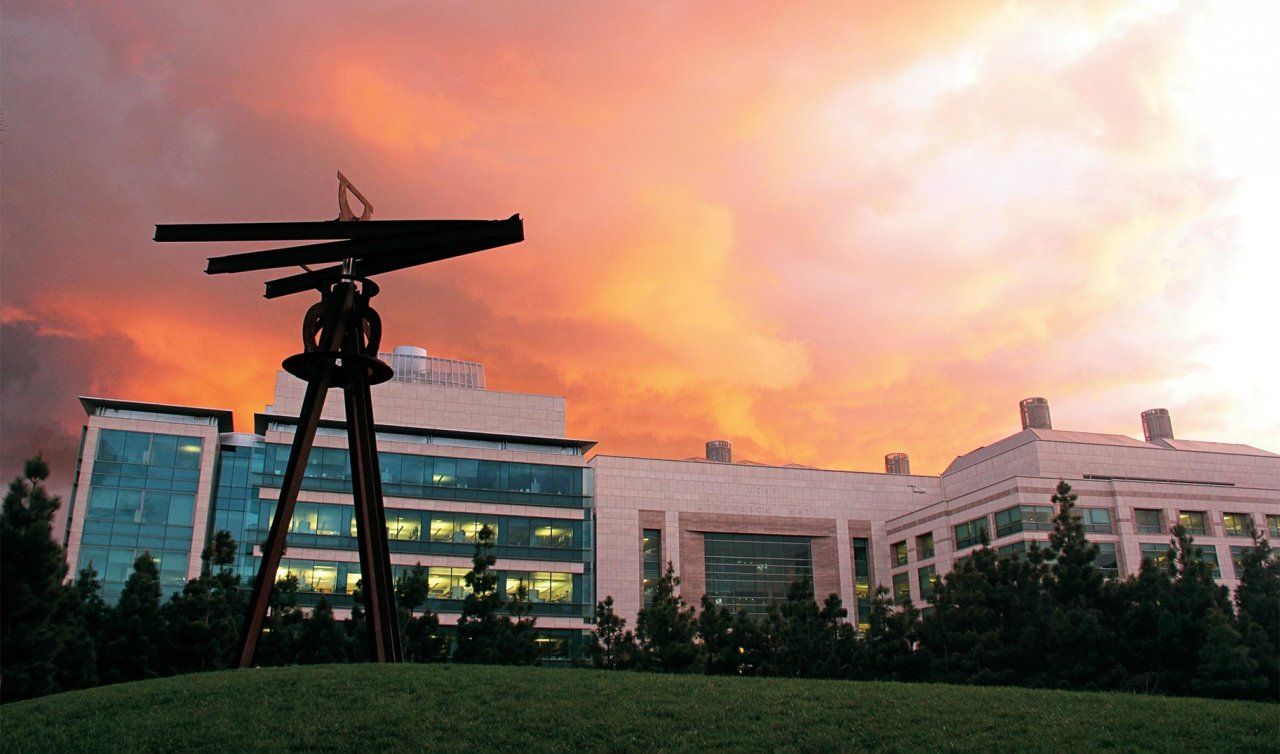 UCSF board member Jeanne Robertson was captivated by Dreamcatcher when she first saw the piece in the San Francisco Museum of Modern Art exhibition of di Suvero's work at Crissy Field. Knowing the exhibition would be dismantled in spring 2014, she began thinking how perfect Dreamcatcher would be for UCSF's Mission Bay campus.
Resembling a telescope, or maybe a compass, moving in a manner suggesting pursuit, or perhaps discovery, Dreamcatcher seemed a perfect fit conceptually for UCSF's main research campus. When the exhibition closed in May 2014, Robertson and her husband, Sandy, longtime supporters of Mission Bay and of UCSF's commitment to public art, purchased the 50-foot-tall, 15-ton steel sculpture and donated it to the university. The massive artwork was disassembled into 11 pieces and put into storage while a Mission Bay site was prepared. In early January 2015, a crane hoisted Dreamcatcher over the trees and into its permanent home on Koret Quad.
UCSF's commitment to public art dates back decades. Dozens of paintings, sculptures, statues, and other works dot our Parnassus campus, and when planning for Mission Bay began in 1999, then-Chancellor J. Michael Bishop, MD, pledged 1 percent of construction costs to create a premier public art program there. 
Those funds have been used to purchase or commission works by more than 50 artists. UCSF named the collection, called by the San Francisco Chronicle "one of San Francisco's most ambitious public collections of contemporary art," in Bishop's honor. 
"Dreamcatcher is a magnificent piece of art that will forever grace our Mission Bay campus and inspire generations of students and faculty," says Chancellor Sam Hawgood, MBBS. "The name itself wonderfully captures the very spirit and intention of UCSF: to dream the impossible and then catch the dream. Our mission at UCSF is to improve the health of the world – a dream very much worth catching."